Double Whammy: A Scam That Targets Victims of Scams
By Eileen Ambrose , February 18, 2016 10:43 AM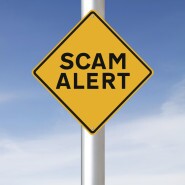 It's bad enough being scammed out of your money once. But some older consumers are being conned a second time by so-called asset recovery companies promising to help recover the money lost in the initial fraud, the Consumer Financial Protection Bureau (CFPB) warns.
The companies charge hundreds or thousands of dollars up front but offer services that victims could do on their own for free, the agency says.
Ways to save, expert investment advice, scam alerts and more! — AARP Money Newsletter »
For instance, the companies might file complaints to regulators on behalf of consumers — something anyone can do without charge. On top of that, they often file claims that are too old to be legally valid or don't have the right documentation, the agency warns.
Outsmarting the Scam Artists: How to Protect Yourself From the Most Clever Cons
The scheme came to the CFPB's attention after it received about 400 complaints in recent months concerning consumers on whose behalf one Florida-based company had filed complaints, according to Stacy Canan, deputy assistant director of the CFPB's Office for Older Americans. The asset recovery company wasn't authorized to file the complaints for these consumers, who were all older than 62 and had been victims of previous scams, such as bogus time-share investments and work-at-home schemes, Canan says.
The CFPB contacted some of the consumers, who said they were unaware the company had filed the complaints on their behalf, Canan says. Others said the company claimed to have contacts at government agencies that could help recover money, but that it warned them to keep this information secret.
It's unclear how these asset recovery companies identify people who have already been victims of scams, Canan says.
The asset recovery company could be the same group that defrauded the person in the first place, she notes. Or it could be that the names of victims were added to a "suckers list" and sold to different con artists.
According to Doug Shadel, AARP state director in Washington and author of Outsmarting the Scam Artists, convicted con men have admitted targeting scam victims because of their vulnerability. This scheme is called a reload pitch, he says."Often the victim is willing to throw good money after bad to avoid the embarrassment of being found out by family members," Shadel says. "They reason that if they can somehow recover the money they lost before a spouse or family member finds out, they will be spared the embarrassment."
Also, a recent study funded by AARP and conducted by psychologists at Stanford University found that consumers who are in a heightened emotional state — common after being scammed — are more vulnerable to deceptive sales pitches, Shadel adds.
"This is another reason why we think the reload pitch is so successful," he says.CFPB's Canan says she can't comment on any investigations or enforcement action her agency may take against these companies.
Get discounts on financial services from trusted companies — AARP Member Advantages »
But the CFPB said there are some red flags consumers should watch out for, such as

Companies asking for a fee up front to recover lost money.
A demand for secrecy.
Claims that a company has special government access for filing complaints.
"It's important for consumers to know [that] submitting a complaint with the CFPB or the FTC  [Federal Trade Commission] is free — absolutely no charge," Canan says.
Photo: Honglouwawa/istock
Also of Interest

See the AARP home page for deals, savings tips, trivia and more.