'Dump Your Bank' Movement Still Gaining Momentum
By Carole Fleck, June 4, 2012 04:49 PM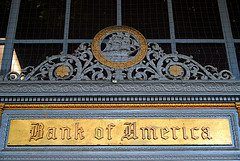 Dump your bank was a popular mantra last year and apparently the trend continues. Fed-up customers angry over increasing fees and less-than-stellar service dissed their banks in droves and headed straight to their neighborhood credit unions to do business.

According to just-released data, 667,000 people joined some 7,000 federally-insured credit unions in the first quarter of this year, bringing new membership to a record 92.5 million. That's equal to more than half the 1.4 million new members who signed up in all of 2011.

Customers' frustration with banks gained momentum during the financial crisis and bank bailout following the recession, and surged anew late last year as Bank of America prepared to charge a monthly fee for debit card use. It later backed off amid customer backlash. People doing business at other banks also grew irritated over new or increasing fees for services.

That prompted several nationwide campaigns encouraging customers to break up with up with their banks and open accounts at community banks and credit unions, CNN reported.

Bank customer defections helped push credit unions' combined assets and net worth to record highs, reaching $1 trillion.
Whether your money is in a bank or a credit union, make sure that the institution's protected by the Federal Deposit Insurance Corporation, the federal agency that was set up in 1933 after a frightening string of bank failures. The FDIC currently pledges to cover you up to $250,000 per account, or $500,000 for joint accounts, in the event of a failure.
With the future stability of the nation's financial system still a big issue in Washington, one columnist is calling on the FDIC to make use of its extensive influence to rein in what he sees as dangerous speculation by banks.
In a
recent Washington Post column
, Barry Ritholtz bashed years of banking deregulation for devolving "into an unruly mess....Safety and security are secondary to risk-taking and speculation."
"Are we going to rule banks, or are bankers going to rule us?" asks Ritholtz, author of a book called Bailout Nation.
To answer his question, Ritholtz took off in his time machine to the future (yes, he wrote that) and learned that taxpayer liability for reckless bank speculation had ended, while at the same time reducing the burden of regulation.
Among (imaginary) actions that regulators will take in 2015, he tells us:
- Immediately increase by three-fold the cost of FDIC deposit insurance for any U.S. bank that engages in any trading of derivatives or underwriting securities or other investment banking activities.
- Lower the maximum insured deposit liability first to $100,000, then to $50,000 for institutions that engage in derivatives trading or investment banking, then end the insurance altogether.
- Provide for waivers for any banks that have fewer than 1,000 depositors or less than $1 billion in assets.
Too bad we can't all see the future so clearly (or perhaps optimistically). It would require a wrenching shift in current policy.