Five Frugal Lessons From My Father
By Jeff Yeager, June 10, 2013 11:56 AM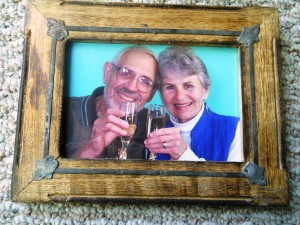 As Father's Day rolls around once again, I'm thankful for all of the things my dear Dad has taught me over the years, including some invaluable lessons about money. Here are the top five lessons I've learned from my frugal father:
1. If you can't afford to pay for it now, you simply can't afford it. That's right. It's "old school" for sure and easier said than done, but if you live by this simple credo and refuse to borrow money to buy almost anything other than a house, you'll rack up huge savings compared to the $600,000 most Americans are now projected to pay in interest costs over the course of their lifetimes.

2. The quickest way to double your money is to fold it in half and put it back in your wallet. Dad loves Will Rogers (like father, like son), and this is one of his favorites from the master of quotable quotes. Yep, think twice - or even three times - before parting with a buck or thinking that you can beat the odds by investing rather than saving.

3. Pigs get fat, hogs get slaughtered. I've always loved this colorful gem from my father. If you're as clueless as I was when I first heard it, it simply means that if you're greedy and selfish in your financial dealings - and life in general - you're likely to pay for it in the end. There's nothing wrong with the pursuit of prosperity, just so long as it's never at the expense of others.

4. A penny saved is a penny earned. When it comes to wisdom and one-liners, in my father's book Ben Franklin is right up there with Will Rogers. And Dad got a good chuckle out of my attempt to one-up Ben when I argued in one of my books that a penny saved is actually worth about twice as much as a penny earned, once you factor in the taxes you need to pay on the earned penny and the various expenses you probably incur in earning that penny.

5. Don't take any wooden nickels. Based on this old standard saying of my Dad's, as a kid I searched endlessly for a wooden nickel. I thought it would be the crown jewel in my coin collection. After years of looking, I finally realized that the joke was on me, and anyone else who has the middle name of "Gullible."

Happy Father's Day to my Dad, Doug Yeager, and to all the other dads out there who take the time to teach their kids some important lessons about money, and life.