Jack Bogle's 5 Simple Rules for Investing in Stocks
By Allan Roth , October 20, 2015 04:25 PM
Last week, 200 "Bogleheads" met for an annual gathering near Philadelphia, PA to hear the legendary founder of Vanguard, the world's largest fund company, talk about investing. The Bogleheads is a not-for-profit organization in which anyone can post financial questions (at bogleheads.org) and then hundreds of volunteer members (Bogleheads) who are seasoned investors respond with advice — generally without a profit motive.
To ask a question, you must join, but you can probably find the answer to your question by using the search engine on the site without joining. The Bogleheads organization is separate from the Bogle Financial Markets Research Center.
Simple ways to save a buck, expert investment advice, scam alerts and much more! — AARP Money Newsletter »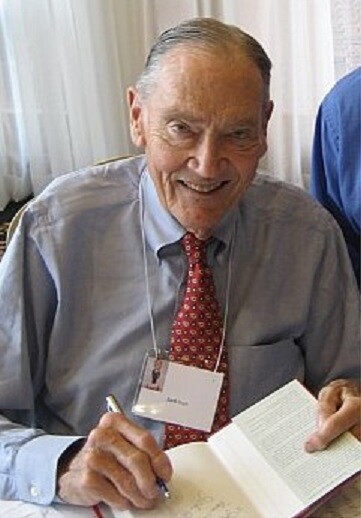 Now over 19 years since receiving a heart transplant, John C. "Jack" Bogle may be one of the longest-living people to receive a new heart after the age of 65. As proof that cognitive decline is not inevitable, he spoke to me in detail about our first conversation 13 years ago, and he shared some of his observations on the current state of the market.
The stock market is a giant distraction to the business of investing, Bogle said. Reacting to short-term movements is mere speculation.
Vanguard now has over $3 trillion of investors' assets. He attributes Vanguard's success to the industry increasing fees while Vanguard decreased them.
Looking ahead, Bogle sees only modest returns from stocks, perhaps only an average of 4 percent annually over the next decade. He sees no great alternatives, however, since bonds are likely to return less.
Bogle does not recommend owning international stocks (foreign companies based outside the U.S.), because roughly 50 percent of the earnings of S&P 500 companies already come from other countries. (I respectfully disagree with this point, since returns of U.S. and international companies can vary so much even though they do tend to move in the same direction. Thus, international stocks provide diversification over having only the overseas earnings from U.S. companies.)
Bogle's advice on stock investing is to follow five simple rules:
1. Own the U.S. stock market.
2. Diversify to the nth degree.
3. Minimize transaction costs.
4. Have a tiny management expense ratio.
5. Hold it forever.
Get discounts on financial services from trusted companies — AARP Member Advantages »
This sounds rather like a total U.S. stock index fund to me, such as the Vanguard Total Stock Market ( VTI), the Schwab Broad Market ( SCHB) or the iShares S&P Total Stock Market ( ITOT). All have annual expense ratios between 0.04 percent and 0.07 percent.
Bogle's parting advice: The vast majority of American families are sentenced to a lifetime of investing in the existing mutual fund penal system. But if they are smart, they'll do their time in an index fund.
It would seem that families have been taking this advice in droves, as money in index funds now accounts for 39 percent of U.S. stock funds.
Photo: Bogleheads.org
Also of Interest

See the AARP home page for deals, savings tips, trivia and more.