Medical Credit Card Issuer Ordered to Make Refunds
By Carole Fleck, December 12, 2013 09:45 AM
A dentist tells an older patient during an exam that she needs expensive treatment. She can't pay the fee outright, so the dentist immediately arranges financing through a medical credit card plan. A month later, the patient opens her first bill and discovers that the card is not interest-free, as she'd thought. In fact, it carried an annual interest rate as high as 27 percent if she didn't pay it off within a certain period.

Richard Cordray, director of the Consumer Financial Protection Bureau, wants to put an end to these kinds of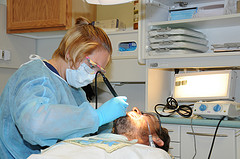 situations, where consumers aren't given adequate information about the terms of a deal. Financial companies that "take advantage of patients" will not be tolerated, he said.

On Tuesday, the CFPB ordered GE Capital Retail Bank and its subsidiary, CareCredit, to refund up to $34.1 million to more than 1 million people who were victims of deceptive credit card enrollment tactics at the offices of health care providers around the country.

"Medical debt is already a big problem for many Americans," Cordray said in a statement. "Poor credit card transparency should not be making the problem even worse."

"Show Us Your Modern Family" Photo Contest. Upload your photo for a chance to be photographed in AARP The Magazine. See official rules.

Dental, medical, cosmetic, vision and veterinary care providers are the primary sellers of the CareCredit card and offer it as a payment option for their patients. Providers like the cards because they get paid upfront.

The CFPB says patients were unaware that they could be on the hook for hefty interest charges-as high as 27 percent, when other credit cards offer less than half that APR-if the balance wasn't paid in full by the end of a promotional period. Even if most of the balance was paid off when the promotional period ended, typically in six to 24 months, the consumer still became liable for all of the accrued interest, penalties and fees during that time.

An explanation of those terms was not disclosed or made clear to consumers who signed up for the credit card over the last three years, according to the CFPB. Many patients incurred substantial debt as a result.

The CFPB says that CareCredit, in addition to issuing refunds, will now have to contact consumers within three days of applying for the card to explain the terms of the deal. For certain transactions of more than $1,000, consumers will have to enroll directly through a CareCredit representative, and not through a provider's office.

>> Get discounts on health products and services with your AARP Member Advantages.

The CFPB began investigating CareCredit after it received hundreds of complaints from consumers.

Here's what the CFPB probe turned up:

Deceptive enrollment processes. Service providers misled some consumers by not clearly laying out the terms of the deferred-interest loan during the enrollment process.
Inadequate disclosures. Many consumers were not given copies of the CareCredit agreements and instead were only told about the terms.
Poorly trained staff. Some of the health care providers and their office staff members who were responsible for explaining the CareCredit agreement to borrowers had little or no training by CareCredit and were confused themselves about the card.
CareCredit will notify more than 1 million consumers who incurred charges from their credit card that they may file a claim seeking reimbursement, the CFPB said.

Photo: PaNational Guard/flickr



Also of Interest



See the AARP home page for deals, savings tips, trivia and more