Money-Saving Recipe: Tapioca Pudding
By Jeff Yeager, July 9, 2012 09:45 AM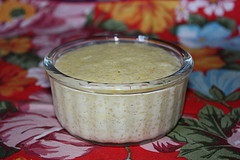 Are you ready to celebrate National Tapioca Pudding Day, which - as you no doubt know - is this Sunday, July 15? I mean, who doesn't know their National Dessert Days by heart?

See also: More pudding recipes

Sure this is a hectic time of year for us pudding lovers, with National Vanilla Pudding Day back on May 22 nd and National Chocolate Pudding Day a mere two weeks ago, on June 26. But once we spoon our way through Tapioca Pudding Day, we have two full months to jell-out before National Butterscotch Pudding Day, which as you'll recall is September 19.

Okay, so I'm an admitted pudding junkie, and tapioca is my all-time favorite. Tapioca is a root starch extracted from the cassava or yucca plant, so it's probably unlike anything else you've ever eaten.

Ever since I was a kid I've loved the flavor of tapioca pudding and, even more, the uniquely slippery texture of the tapioca itself. Back then, my rich uncle told me that tapioca was like caviar. But when I finally grew up and first tasted caviar, I thought, "Eew! Give me my tapioca pudding any day!"

My love of tapioca pudding is second only to my love of crockpot cooking - an economical choice no matter what time of year. So here's my "pearl of a recipe" for making simple and delicious tapioca pudding in your slow cooker:

½ gallon milk (1%)
1 ½ cups sugar
1 cup small pearl tapioca
4 eggs
1 teaspoon vanilla
Cinnamon and/or nutmeg to taste (optional)
Combine the milk, sugar, and tapioca pearls in crockpot (4 quart size or larger). Stir thoroughly, cover and cook on high for approximately 3.5 hours, or until the tapioca is soft but the mixture is still runny.

Mix the eggs with the vanilla in a separate bowl. In order to avoid having scrambled eggs in your pudding by adding the eggs directly into the hot pudding mixture, "temper" the eggs by gradually whisking a total of 2 cups of the hot milk and tapioca mixture into the bowl containing the eggs. This brings the eggs up to temperate slowly. Once the eggs have been tempered in this fashion, pour them into the slow cooker and whisk the whole mixture thoroughly.

Cover and cook on high for another 45 minutes, or until the tapioca is pudding-like in consistency. Turn off slow cooker and let it sit for 1 hour to cool. Spoon into dishes and chill thoroughly in the refrigerator before serving. I love serving it while it's still warm during the wintertime. Sprinkle a little cinnamon and/or nutmeg on top, if desired. Enjoy!

The recipe will make about 12, 8-ounce cups of tapioca pudding at a cost of less than 50 cents per serving.

So beat the summer heat by enjoying a cold dish of creamy tapioca pudding next week. Just remember, you'll be looking back on the hot summer weather we're having with fond memories come National Plum Pudding Day. What? National Plum Pudding Day is February 12, silly.

# # #

Photo by Irmavet via Flickr Creative Commons.