Oldest Americans Weathered the Recession Better Than Others
Many Americans are still reeling from the last recession, although the oldest among us weathered the economic decline better than other age groups.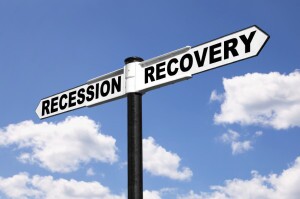 That's according to a recent report by the Census Bureau that looked at how Americans ages 65 and up fared during and after the 2007-2009 recession. These older consumers were somewhat buffered by more conservative investment strategies as well as high homeownership and a resistance to squeezing all equity out of their property by refinancing.
It wasn't all positive news. According to the Census Bureau, older workers who lost their jobs had a tougher time finding a new one and as a result sometimes retired earlier than they wanted. Still, the report found, many workers age 65-plus hung onto jobs during the recession, and their age group was the only one not to experience a drop in its share of the job market.
>> Sign up for the AARP Money newsletter
The Census Bureau report looks at older Americans of all income levels, including the wealthiest. Looking strictly at middle-class households, says Lori A. Trawinski, director of banking and finance for the AARP Public Policy Institute, "a slightly different perspective emerges." Older people "may not be hurting as much, but they are hurting," particularly consumers ages 75 and up.
For many Americans, housing was the source of their financial troubles when the real estate bubble burst several years ago - though not as much for retirement-age households, the report found. While home ownership has fallen since 2006 among every age group under age 65, it has remained steady at around 80 percent for those older.
Foreclosures also tended to be less of a problem for householders in their fifties and up, according to the report. They typically had more equity built up in their houses and were less likely to tap it than younger homeowners, the report said.
Falling home values, though, did lead to older consumers delaying their move out of their houses and into assisted living facilities, according to the report.
Trawinski, author of a 2012 foreclosure report, says the Census report understated the foreclosure problem among older homeowners. More than 1.5 million Americans 50 and older lost their homes from 2007 to 2011, she says.
Younger homeowners experienced more foreclosures during those years, although the rate of foreclosures grew fastest among those 50 and older, Trawinski says. And among these older homeowners, the foreclosure rate was highest for people ages 75 and up - 3.2 percent of their loans were in foreclosure in 2011 - largely because they had shrinking assets, rising debt levels and growing expenses for necessities, she says.
Between 2005 and 2010, all ages saw a drop in net worth, which includes the value of houses, according to the Census Bureau. However, the smallest drop - 7.2 percent - occurred among those ages 65 to 69. The largest: a whopping 58.8 percent decline for those ages 35 to 44.
>> Get travel discounts with your AARP Member Advantages.
The downturn in the stock and bond markets took the biggest bite from older, affluent investors ages 50 to 64 because they had more invested in securities. Nearly two-thirds of them reported losses, with 15 percent in this age group losing more than 40 percent, according to the Census Bureau report. While those ages 65 and up lost money in investments, too, only 5 percent reported losses greater than 40 percent.
The Census Bureau says the 65-plus group was more likely to follow investment basics that protect portfolios in volatile markets, such as holding diversified securities, investing in mutual funds with low fees and selling off losers.
Older workers weren't immune to the flurry of layoffs in the recession. For instance, the unemployment rate for those 65 to 69 more than doubled to 7.6 percent between 2007 and 2010. Even so, 16.2 percent of people 65 and up had jobs in 2010, compared with 14.5 percent five years earlier, the Census Bureau reported.
Photo: RTimages/iStock
Also of Interest

See the AARP home page for deals, savings tips, trivia and more