Paying It Forward: Banks Give Free Homes to Wounded Vets
Julie Barcheers is on her way to becoming a first-time homeowner without having to buy a house.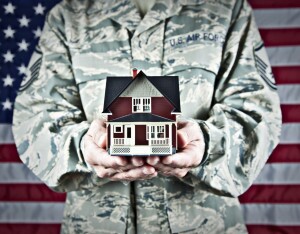 The 55-year-old Army veteran participates in a program by the Military Warriors Support Foundation that matches those wounded in service with houses donated by major banks. Barcheers recently received the keys to a three-bedroom house in Carriere, Miss. If she pays the annual property taxes and meets other criteria, the house will be hers in three years - free of any mortgage.
"For the first time in my life, I have a place to call home," says Barcheers, who suffered a brain injury in 2008 from an explosion while serving in Iraq. "I love my little house."
>> Sign up for the AARP Money newsletter
The program is one of a few in which banks, such as Wells Fargo, JPMorgan Chase & Co. and Bank of America, donate foreclosed houses to nonprofits, which then pair the properties with wounded veterans and their families. After moving in, candidates must meet certain requirements, such as undergoing financial counseling and keeping up with taxes and insurance on the house, before they own the property outright.
"When a lot of veterans come back home, they have a lot on their plate," says Angela Vander Werf, real estate owned community development manager for Wells Fargo. "Not just housing. It's finding a job, getting an education."
These programs allow veterans "to focus on going back to school or getting a job" without having to be concerned "about putting a roof over their family's head," Vander Werf says.
Wells Fargo in late 2012 committed $30 million to these programs, including the value of the donated houses as well as repairs and, in some cases, renovations to make the homes accessible to injured veterans. So far, the bank has donated more than 120 homes - valued at more than $18 million - to Military Warriors and Operation Homefront.
"We are really picky about the homes we choose," Vander Werf says. "We are choosing some of the best properties that we could easily sell."
Bank of America, which donated Barcheers' house, and Chase each have pledged to donate 1,000 homes. Bank of America reached its target a year earlier than expected in April and plans to continue the program. Chase has donated more than 690 houses whose value and renovations exceed $104 million, the bank says.
"In close collaboration with our nonprofit partners, we evaluate each home to make sure it is in a community that meets the unique needs of the veteran and his or her family," Shannon O'Reilly, Chase's communication director for military and veterans affairs, wrote in an email. "Careful consideration is given to local health care facilities, schools for those with children and a nearby support network of other family members."
The nonprofits have their own rules on who qualifies for a mortgage-free home.
Military Warriors' mortgage-free program, for instance, is generally open to those injured in combat - with preferences to Purple Heart recipients - who have been honorably retired or separated from the military. Spouses whose partners have died in combat are also eligible.
>> Get travel discounts with your AARP Member Advantages.
The organization, based in San Antonio, Texas, has placed wounded veterans and their families in more than 570 homes in the past few years.
To qualify, recipients must have the financial means to maintain the home and keep up with any property taxes, says Andrea Dellinger, senior director of Military Warriors. They cannot have an outstanding mortgage and must provide supporting documentation of service and injuries.
Once candidates are awarded houses and living in them, they are required to undergo three years of financial mentoring to guide them through the issues of home ownership. Recipients build such strong relationships with mentors that "they feel very comfortable to contact them with other things going on in their life," Dellinger says.
After completing the financial mentoring, veterans receive the deed to the house.
Veterans can check out available properties on the Military Warriors website.
Military Warriors tries to match a veteran with a house near medical facilities and in a community where he or she will have support, such as friends or family, Dellinger says. Or, if the veteran is returning to school, the group will try to find a house near a college.
"Support is a major positive tool in their reintegration to the community," Dellinger says.
On average, every house has at least five applicants, Dellinger says. Vets who don't get a house initially may be matched with one later.
Barcheers says she learned about the Military Warriors program from a fellow retired service member. She applied earlier this year and was in her house by May.
"I don't plan on ever moving again," she says.
Photo: CatLane/iStock
Also of Interest

See the AARP home page for deals, savings tips, trivia and more