Reuse Your Fruitcake: Make French Toast
By Jeff Yeager , December 31, 2012 10:39 AM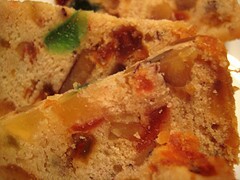 You know how I love the challenge of " creative repurposing" - the art of finding alternative uses for things that many people just throw away. So in honor of the season's most despised - and oft discarded - baked good, I recently set out to research creative reuses for fruitcake.
See also: cheap holiday party ideas.
Don't get me wrong. I'd never, ever consider throwing away a fruitcake, as I'm one of those people who actually adore the stuff just the way it is, in large part because of this Pavlovian-dog experience from my youth. But I realize I'm in the fruitcake-loving minority, which became all the more apparent when my research turned up a wide range of suggested reuses for fruitcake that involved doing anything other than actually eating it.
For example, some suggest using your leftover fruitcake as a doorstop, a driveway speed bump or to replace any bricks damaged in your chimney when Santa made his entrance/exit.
In a more practical vein, a friend of mine hates plain fruitcake but adores it after soaking it overnight in bourbon, rum or brandy and then slathering it with whipped cream. Of course, it occurs to me that if you took an actual brick or doorstop and soaked it in enough booze and covered it with enough whipped cream, it'd be pretty tasty.
But here's a delicious way to use up leftover fruitcake without raising your blood alcohol level: my Fruitcake French Toast (makes 2 servings):

2 eggs
¼ cup eggnog (milk or cream can be substituted)
nutmeg and/or cinnamon - dash (optional)
4 tablespoons butter
¼ cup flour
2 tablespoons powdered sugar
6 slices fruitcake (approximately ½ inch thick)
Whisk the eggs together with the eggnog, and add the nutmeg and/or cinnamon. Melt the butter in a skillet. Combine the flour and powdered sugar. Dip each fruitcake slice in the egg mixture, then dredge it in the flour mixture, coating all sides. Fry each slice in the butter, turning once, until the outside is golden brown.
Fruitcake French Toast is very rich and plenty sweet to serve without syrup, although a little chocolate sauce drizzled on top is guaranteed to win over even the most adamant fruitcake hater. And if it doesn't, remember that Jan. 3 is National Fruitcake Toss Day, the one day of the year when it's officially OK to jettison your unwanted holiday fruitcake if you must.