Save Money at Pick-Your-Own Farms
By Jeff Yeager, June 4, 2012 09:36 AM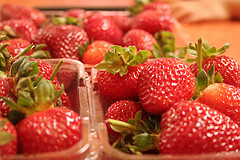 Unlike a lot of folks, I've never considered shopping to be fun or a form of entertainment. I guess that's because I was born with the cheapskate gene, and it's rumored to take the jaws-of-life to get my wallet out of my back pocket.

But the other weekend my wife and I went on a shopping excursion of sorts that I really must admit was both entertaining and a good value. We spent a sunny Saturday at a pick-your-own strawberry farm in rural Maryland, coming away with 10 pounds of the sweetest berries we've ever eaten for the bargain price of $1.65 per pound. So for less than $20, we got an enjoyable outing plus enough berries to cover most of our kitchen counter.

Pick-your-own farms aren't as common as they once were, but there are still some around in most parts of the country. You can find a nationwide directory of all types of pick-your-own farms online, where you can pick everything from apples to zucchinis.

Always contact the farm directly before you head out for a visit, because picking conditions can change quickly-- unfortunately the farm we visited was hit by a hailstorm a few days ago, and their remaining strawberry crop was severely damaged. Keep in mind that the best values at pick-your-own farms is usually on larger quantities (we got a discount for picking 10 pounds or more), which is great if you have a plan for preserving what you pick or you're going to consume your harvest quickly.

Speaking of which, after we gorged ourselves on heavenly strawberry shortcake and I made one of my favorite strawberry-rhubarb pies, I used the following recipe to turn the balance of our berries into this simple to make freezer jam:



Sugar-free Strawberry Freezer Jam
For every pound of strawberries, you will need ½ cup of apple juice and ½ packet of no sugar pectin.

Mash the fresh berries in a bowl using a potato masher or similar implement. Wisk the pectin into the apple juice in a saucepan, and then bring it to a hard boil for one minute. Pour the boiling mixture directly into uncooked strawberries, and stir them vigorously for one minute. Spoon the jam into freezer-appropriate containers, and then allow it to cool and set in the refrigerator overnight. The next day the jam can be placed in the freezer, where it will stay tasty for up to one year.

Now, that was as simple as pickin' berries, wasn't it?

Photo by amye.hua via Flckr creative commons.