What Happens in Vegas May Not Be Staying There This Time
By Patrick Kiger , May 31, 2013 04:55 PM
When you think about gangsters with ostentatious tastes, you tend to think of guys like Tony Montana, the fictional drug lord portrayed by Al Pacino in the 1983 film Scarface. Remember him sitting in an ornate mansion with gold chains dangling out of an open-necked black silk shirt and diamond rings decorating his hands that clutched a grenade launcher? Well, the scam artists who make millions ripping off older Americans apparently spend their ill-gotten proceeds getting gaudy as well.

Take, for example, Brett Oncale, who was sentenced to 10 years in prison in 2011 for running a Houston-based $100 million life-settlement scam that stole the life savings of numerous older investors, including this retired teacher. Oncale spent some of that misery-soaked cash on a loose-cut 4.9 carat diamond.
And then there's Pogos Satamyan, a Glendale, Calif., man who was a player in a massive nationwide scheme to defraud Medicare of millions of dollars by using the stolen identities of patients to submit bills for procedures performed at medical clinics that didn't really exist. Federal authorities seized 6.6 pounds of gold pellets from him.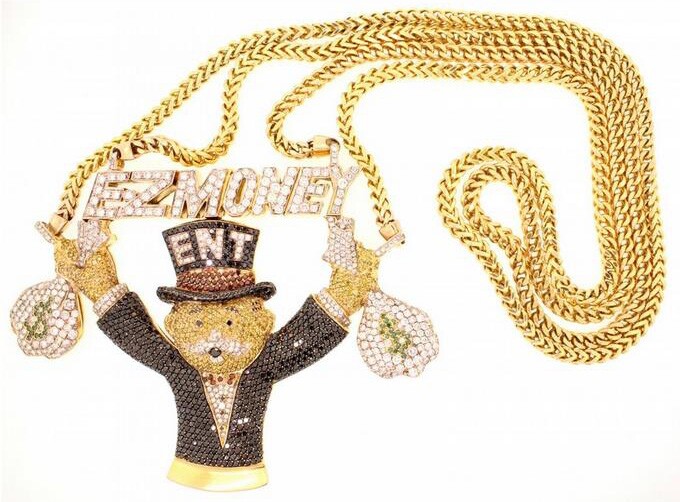 And the Texas scammer who spent some of his stolen cash on a gold-and-diamond necklace with a dangling figurine of the banker from Monopoly, emblazoned with the slogan "EZMONEY."
Makes you mad, huh? Well, now you can get even by buying some of their loot at bargain prices. This Saturday at the Las Vegas Convention Center, the U.S. Marshals Service will auction off more than 300 lots of gold and silver bullion and coins, loose diamonds, fine jewelry and watches, with the proceeds to benefit victims of crimes and help fund law enforcement programs. If you happen to be attending AARP's Life@50+ National Event, also at the Las Vegas Convention Center, maybe you can duck out for the auction. If you can't make the auction in person, you can participate in a live online simulcast and enter bids that way.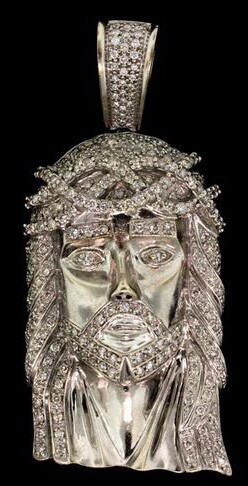 Satamyan's bag of gold is probably worth around $135,000, judging from current market prices, but the opening bid in the auction is just $120,000. And you might save a few thousand bucks on this Rolex O.P. Daytona Cosmograph, which opens at $19,000. But if you're just into looking like a player, you might go for this diamond pendant emblazoned with the logo MAJOR PLAYERS ENT., which opens at a mere $1,150. (There's a slightly more understated version with a diamond-encrusted P, opening at $5,400.) Crooks apparently often find religion, as evidenced by this diamond-encrusted pendant of Jesus wearing a crown of thorns, which will open at $2,400.
You can also bid on a 14-carat replica of a Wisconsin license plate, once owned by someone who now may well be making the real thing.
Photos: Gaston & Sheehan Auctioneers
Also of Interest

Join AARP: Savings, resources and news for your well-being
See the AARP home page for deals, savings tips, trivia and more