Some Health Care Plans Lowball Quotes; Actual Premiums Cost More
By Carole Fleck , February 20, 2013 10:55 AM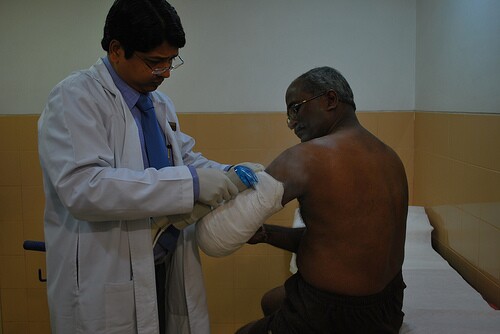 Shopping for a health care plan? Don't be surprised if certain insurers quote you one price for a premium but it turns out that the quote is significantly lower than the actual cost.
It happens more than you might think. So trying to compare the cost of certain plans may be extremely challenging.
An analysis from HealthPocket, a consumer website that compares and ranks health plans by state, finds that a jaw-dropping 80 percent of health insurance plans could potentially cost more than the original quoted price for about one in six applicants on average. If you live in Pennsylvania, you're more likely to get a surprise - two in three applicants may find that the premiums were higher than quoted.
Kev Coleman, the study's author and lead researcher, says insurers typically quote the price for the healthiest among us, not taking into account chronic conditions or age, for example. But some conditions that caused insurers to charge higher prices stunned him, like allergies (because you may visit allergists frequently, driving up costs) and breast augmentation (scar tissue that may form around that surgery could lead to more doctor visits and surgery).

"When people are shopping for a health insurance plan, they're being quoted for premiums for the healthiest of applicants,  and that may not apply to their circumstances," Coleman says. "The price is imaginary if you can't get it. When insurers wait until an application is reviewed to reveal the true monthly premium, it is impossible for consumers to know what health insurance plan is the least expensive for their circumstances."

The study was based on an analysis of 10,817 health insurance plans for individuals and families under the age of 65. It didn't include plans from the Medicare, Medicaid and employer-based health insurance markets.
Premiums are typically the largest out-of-pocket health care costs for the average consumer and a major factor in selecting a health plan.
Because premiums and rates are governed at the state level and the underwriting criteria is not standardized, some insurers in certain states were better than others about quoting more accurately, based on health status, whether you smoke and other factors. Also, the amount a rate could be increased over a quote differs among states because each has a different cap on rate hikes.
At the state level, eight of 10 companies that increased premiums on applicants most frequently were for-profit Blue Cross Blue Shield companies, the study found. Among the biggest offenders were Anthem Health Plans in Virginia, part of Anthem Blue Cross Blue Shield, and PacificSource Health Plans in Idaho. Both insurers quoted premiums that were likely to be lower than the actual cost for more than two in three applicants, according to the study.
Other carriers that were more likely to quote a lower price than the actual premium might cost for about one in two applicants:

Blue Cross of Idaho Health Service
Blue Cross and Blue Shield of Florida
Rocky Mountain Hospital & Medical Service (Anthem Blue Cross Blue Shield)
UPMC Health Benefits, Pennsylvania
Health Options (Blue Cross Blue Shield of Florida)
Anthem Health Plans of Kentucky (Anthem Blue Cross Blue Shield)
Community Insurance Company in Ohio (Anthem Blue Cross Blue Shield)
Healthy Alliance Life Co in Missouri (Anthem Blue Cross Blue Shield)
On the bright side, states including Maine, Massachusetts, New Jersey, New York, Oregon, Vermont and Washington did not hike premiums after consumers applied because insurers were required to disregard health status in determining the cost of premiums.
Photo credit: nynameisharsha via flickr.com