Stock Market Newsletters: Are They Worthwhile?
By Allan Roth , November 04, 2015 03:23 PM
Have you ever received an email or letter reading something like this?
Are you tired of working for that boss you hate? You'll never get rich working for a big company, so here's the proven way to build wealth, working only about an hour a month.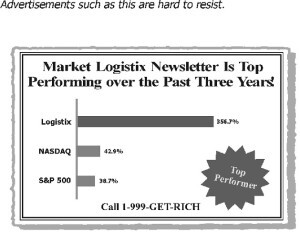 Pitches like these for investment newsletters try to appeal to our emotions and our human ability to suspend common sense and believe anything we want to believe. Let's take a closer look.
The logic of newsletters
Though the advertisement on this page is fictitious and borrowed from my book How a Second Grader Beats Wall Street (Wiley 2009), most of the ads for newsletters show verifiable data. Who wouldn't want to trounce the average market return? Someone sent me one example, which is in this link, to a newsletter from the Motley Fool (a financial services company) showing that its stock picks outperformed the S&P 500 by 141 percent from 2002 through Nov. 3, 2015. Incredible, right? But more on this in a bit.
Thinking logically, we must remember that there are hundreds or even thousands of investment newsletters in circulation around the world. Of course, some are going to do quite well, since all of them being wrong is a mathematical impossibility.
Simple ways to save a buck, expert investment advice, scam alerts and much more! — AARP Money Newsletter »
To illustrate, let's say I wrote two newsletters last year with one advising investors to put everything in India, China and Brazil stocks, and the other advising to bet against, or "short," stocks from the same countries. The first one didn't do so well because stocks plunged in those countries, so I won't put much marketing into that one. The newsletter that advised shorting India, China and Brazil, however, might have had a fantastic gain in the past year. So I send out thousands of emails touting that call and get a booth at the Money Show, where I'll talk about how I reached my brilliant conclusion, as well as why I know what will happen over the next year. And all this predictive wisdom can be yours ... if you pay me $299 for a one-year subscription. If you're not satisfied, I'll send your money back within the first 14 days, which, of course, is not enough time to have a clue whether it works.
If you don't completely buy the logic above, think a bit more about it. If I really knew how to earn even 2 percentage points more than the stock market year after year, would I be peddling $299 subscriptions around the country? I think not. Instead, I'd make a beeline to financial institutions, where I could parlay my statistically significant track record into megamillions.
Examining the claim of the Motley Fool newsletter
The Motley Fool is a respected multimedia financial services company, but did the Stock Advisor Newsletter really beat the market by 141 percent? The firm sent me an independent verifier's report showing that, from March 8, 2002, through Aug. 31, 2015, it trounced the S&P 500 by 138 percent — for a return of 190 percent vs. only 52 percent for the S&P 500. My curiosity was piqued, as my data showed the total return of the S&P 500 to be 121 percent, not 52 percent, and the total stock market (which includes small and mid-cap stocks) to be 144 percent.
I spoke to Andy Cross, the firm's chief investment officer. It appears the way they measure returns isn't the total return over the period. And the newsletter also recommended stocks not part of that S&P 500 index, so perhaps this wasn't the best benchmark.
The data from newsletters
Mark Hulbert, who tracks newsletter investment performance for Dow Jones MarketWatch, noted that if you had invested $10,000 in 1980 and followed the advice of the top-performing newsletter of the previous year, you would have turned your investment into mere pennies.
In an interview, Hulbert said the typical newsletter underperforms an appropriate index fund in the same type of investments by about 1 percentage point a year. In 2013, Hulbert wrote about three top-performing newsletters from the Motley Fool but also noted that two others had lagged and several went defunct.
Hulbert measured the performance of the Motley Fool Stock Advisor letter from 2011 to 2014, and found it did slightly outpace a total U.S. stock index fund such as Vanguard Total Stock Market Index (VTI). The outperformance, however, was only about 0.4 percent annually.
To be clear, it's not that the Motley Fool performance measurement was wrong, but I don't know how an investor could have actually achieved those returns without frequently trading an ever-increasing number of stocks.
Get discounts on financial services from trusted companies — AARP Member Advantages »
My advice
It's only natural to want financial freedom with the least amount of effort. Newsletters can provide some interesting market commentary and model portfolios. Unfortunately, it's completely irrational to think there exists out there some financial visionary who would rather channel those psychic abilities toward the greater good than their own good. Though that would certainly be nice, the financial services sector doesn't draw too many altruists.
So no matter how much you want to believe in the veracity of these newsletters, just say no! The wealth-building appeal of writing newsletters has gotten me to thinking of writing my own newsletter. What do you think of the first two issues?
Issue One: Own a low-cost, diversified portfolio and rebalance. Minimize expenses and emotions and maximize diversification and discipline.
Issue Two: See Issue One.
Allan Roth
is the founder of Wealth Logic, an hourly-based financial planning firm in Colorado Springs, Colo. He has taught investing and finance at universities and written for Money magazine, the Wall Street Journal and others. His contributions aren't meant to convey specific investment advice.
Photo: How a Second Grader Beat Wall Street (Wiley, 2009)
Also of Interest

See the AARP home page for deals, savings tips, trivia and more.