Three Not-Stupid Dog Tricks
By Jeff Yeager, August 12, 2013 12:01 PM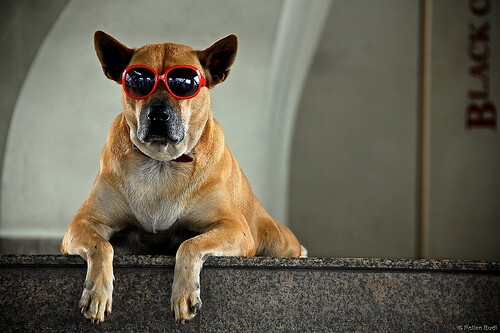 Fido deserves to enjoy the dog days of summer just as much - if not more - than the rest of us. Showing your beloved canine some TLC doesn't need to take a big bite out of your wallet. Here are three simple ways to keep your pooch happy on-the-cheap:

Repurposed Doggie Toys: There are a nifty ways to repurpose would-be throwaway items into play toys for your dog, like those I show you in this video. One of my favorite - and simplest - DIY doggie toys is to take an empty half liter plastic water or soda bottle, stick it inside a spare sock (you know, the one that's missing its mate!) along with a couple of doggie treats, tie it off and let Fido have a field day with it. Dogs love the crunchy nose it makes when they bite it. (NOTE: As is pointed out in the video, always keep an eye on your dog when they're playing with plastic to make sure they don't ingest any.)
"Sweet" Homemade Dog Treats: Whip up a batch of these inexpensive, tasty doggie treats to say "thank you" to your best friend. Cook one large sweet potato in the microwave until tender (that's right, a sweet potato!). Cut the cooked potato in half and scoop out the flesh; it should measure about one cup of flesh. Mash up the potato in a mixing bowl, and add 2 1/2 cups of wheat flour, a quarter cup of unsweetened apple sauce, two tablespoons of creamy peanut butter, one quarter teaspoon of ground cinnamon, and two eggs. Mix everything together thoroughly to form a dough. Roll out the dough on a floured surface to a consistent thickness of about half an inch. Cut the dough into strips - or use cookie cutters to make doggie-delicious shapes - and bake them on an ungreased cookie sheet in a preheated 350 degree oven for about 45 minutes or until crisp. Allow to cool in the pan and then on a wire rack until hardened.
Kill Fleas for Free: If you have a doggie bed, pillows, throw rugs, and the like that are infested with fleas, simply seal the items in a plastic trash bag and put the bag inside a car with the windows rolled up and parked in the sun. Within an hour or two, the extreme heat will kill all of the fleas and their eggs. Obviously never leave a pet (or child!) inside a parked or unattended car with the windows rolled up. Now that would be a stupid human trick!




Photo: Rollanb/flickr



Also of Interest

Join AARP: Savings, resources and news for your well-being


See the AARP home page for deals, savings tips, trivia and more