Use Your Slow Cooker and Save Year Round
By Jeff Yeager, March 19, 2013 12:19 PM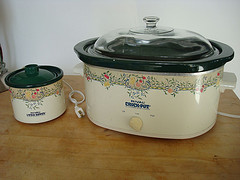 Ah, spring is in the air. It's time to ditch the snow shovel, stow the sweaters and mittens in the closet, and put away your slow cooker (aka Crock-Pot) until next fall.
Hey, wait just a daylight saving time minute! The slow cooker isn't just the cheapskate's cooking appliance of choice for cold weather comfort food. It's truly a frugal cooking machine for all seasons.
In this week's episode of my YouTube web show "The Cheap Life", I pay homage to the Crock-Pot (aka "The Cheapskate's Totem") and share some money-saving crockin' tips and laughs along the way.



To prove my point about the Crock-Pot being a four-season miracle cooker, here's a bonus recipe featuring two of my favorite springtime ingredients, spring lamb and fresh artichokes. If you keep an eye on store specials in the next couple of weeks, you can usually score both of these springtime delicacies at some of their lowest prices of the year.

Lamb with Fresh Artichokes in the Crock-Pot

3 pounds boneless lamb (leg or shoulder potions work well), cut into ¾ inch steaks or 1-inch cubes
6 cloves crushed garlic
¼ cup olive oil
1 teaspoon dried rosemary
1 can (10.75 ounce) vegetable broth or stock
½ cup lemon juice
4 whole fresh artichokes (Canned artichokes can be substituted, but how boring is that?)
4 tablespoons butter
¾ cup Kalamata olives (optional)
Salt and pepper to taste

Coat the inside of the crock pot with spray cooking oil to make cleanup easier. Rub the lamb with 4 cloves of crushed garlic, the olive oil, rosemary, pepper and salt. Place lamb in the crock pot, then add the broth and half (¼ cup) of the lemon juice.

Prepare the artichokes as you would for boiling/baking: remove the outside leaves, cut back the stem, trim the tips, remove the choke (if desired) and dip in lemon water to retain green color (also optional). Place artichokes on top of lamb, stem sides down. Sprinkle artichokes with remaining garlic and lemon juice, lightly salt and pepper, and place a tablespoon of butter on top of each artichoke. Add optional olives.

Cover and cook on low heat for approximately 6 hours. Use some of the liquid as a dipping sauce for the artichokes, adding more butter and lemon juice if desired. I like to serve the lamb in shallow bowls, on top of a bed of rice mixed with white beans and a generous amount of the delicious broth. (Serves 4)

Bon Appe-Cheap and Crock On!

Think Jeff Yeager is one of the Cheapest Men in America? Vote here.