50+ Mommy Chronicles: Our Beginning
By Traci Lucien, April 16, 2013 10:17 PM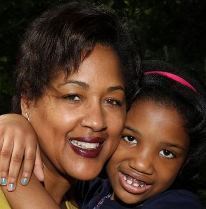 For as long as I could remember my heart's desire was to have a child and be a mother. Single and now 52, my 10-year-old daughter and I are a forever family.

The decision to adopt an older child from foster care did not scare me. OK that is not quite accurate. Anyone who has attended training to foster/adopt knows the kind of information shared on what a prospective parent might experience. When a child is no longer with his or her birth family, placed in a foster home, or in multiple homes you can bet that child has experienced a lot even if the child is eventually adopted.

I remember thinking, really, this is kind of scary. But my heart was in it for the long journey. I don't even think I spent much time considering what if I have to deal with some of the challenges and trauma discussed during orientation. I just kept praying ... God, this desire has been in my heart for a long time so I trust YOU that the right child will be part of my family.

The training, the books I read, the seminars I attended, the parental advice from others couldn't have prepared me enough for the realities of the journey. Though I am older with more life experience and settled in my career, I really am no different from any other first-time Mom. I am learning to parent my daughter by making mistakes, spoiling her and unconditionally loving her. She is my heart.

And as I continue on this journey here is what I know so far:

- The parenting methods used with me won't work now
- Some of that helpful advice from others just won't work with my daughter
- Boy, do I need to connect with local families with adoptive children
- It does take a village to raise a child and my village needs to grow
- As an "overachiever" and "I can do it" person, it is not easy to ask for help
- I need to plan more MOMMY time - self-care, they call it.
- Slow down, pray and be patient.
- Sometimes I miss having my bedroom to myself but I do so love her nightly ask: Mommy can I sleep in your room tonight?
- Most importantly, I need to listen with my heart, love her, and guide her towards her destiny.

To all my 50-plus wanna-be mommies, it is never too late no matter your age.