AARP Cheat Sheet: Friday, October 22
By Beth Carpenter , October 22, 2010 10:00 AM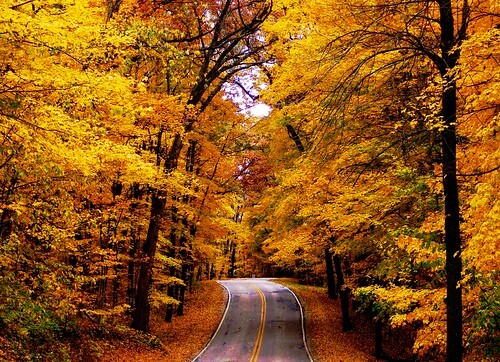 (Fall in Wisconsin, via leeandtacky)
You're not saving enough for retirement. Surprise. "The typical middle-age American is saving far too little for retirement, and the Employee Benefit Research Institute has estimated the shortfall: an average of $47,732 per individual over the course of that person's retirement."
Our thoughts are with Haiti again as that country takes another blow - cholera, this time.
"U.S. Sen. Charles Grassley of Iowa studied Medicare and Medicaid prescription rates from doctors around the country, revealing few consequences for doctors with high prescription rates. The findings include a Miami doctor who wrote nearly 97,000 prescriptions in 18 months for mental health drugs for Medicaid patients and an Ohio physician who wrote about 102,000 prescriptions in two years."
WELL THANKS, federal government: "In a nod to the fading eyesight of the nation's growing number of aging Baby Boomers, the federal government is requiring communities around the USA to change street name signs from all capital letters to a combination of capital and lowercase letters. The government says that makes them easier to read."
On life, from a great meditation on not having it: "Live like a scientist--even a controversial one with only an ally or two in all the world--and treat life as a grand experiment, blood, sweat, tears and all. Bear in mind that there's no such thing as a failed experiment--only data."