At 100, Still Supporting the Troops One Shoebox at a Time
There's no slowing down for Lilly Nutter. The superstar volunteer who devotes her time to organizing and sending shoebox care packages to soldiers was on her way out the door to yet another celebration when I reached her today - her 100 th birthday.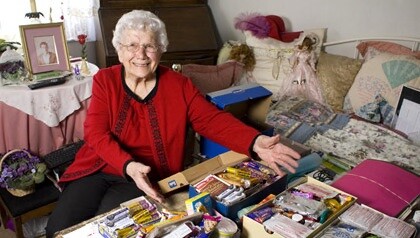 To date, Nutter, of Warren, Ind., has sent 1,181 boxes to troops and is still going strong as she celebrates reaching the centennial mark. The Chicago native already had had five parties and has two more to go, including a big bash this Saturday. "I know you're in Washington, but you're invited too," she told me. "We've just had a ball."
Although she appreciates the dozens of birthday cards, parties, well wishes, and her grandchildren and great-grands gathering to celebrate with her, she really cherishes the 600-plus notes of gratitude she's received from the troops.
"These thank-yous mean so much to me," she says. "I can't believe all the these wonderful things are happening to me."
Photo: Bryan Anselm