At 90+, They Did What?!
By Kotei Kotey, August 12, 2014 04:37 PM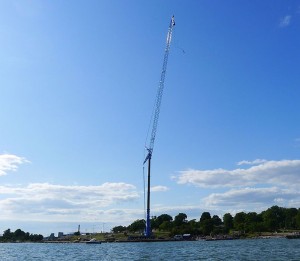 When it comes to seeking thrills, there's apparently no age limit. Consider the case of 95-year-old Margit Tall of Helsinki, Finland, who on Aug. 7 may have become the oldest woman ever to complete a bungee jump.

Tall, who walks with a cane, approached the staff of Sky Breakers, the firm that operates the highest bungee jump in Finland from a crane near her home, with no small measure of determination. "When she came to buy a ticket, she asked if there was an age limit, and we all thought she was joking," Taneli Fils of Sky Breakers, who captured her 150-meter plunge (nearly 500 feet) on video, told the Caters News Agency. "She wasn't scared at all. She didn't even scream during the jump."

>> Slideshow: 11 Things You Should Never Do Again After 50

Tall may be the latest 90-plus thrill-seeker, but she's by no means the only one.

Meet 96-year-old Mohr Keet, bungee-jumping from the Bloukrans River Bridge in South Africa, the world's highest bungee-jumping venue.




In 2012, Peggy McAlpine, 104, reclaimed her title as the oldest person ever to go paragliding, taking back her record from a 101-year-old American.




>> Get travel discounts with your AARP Member Advantages.

Then there's Dorothy Custer, the 102-year-old base-jumper. Although Custer remarked that the 486-foot descent was "too short," she evidently enjoyed celebrating her birthday that way.




Also, we can't forget about George H.W. Bush, who marked his 90th with a tandem parachute jump (his eighth) near his summer home in Maine, making good on a vow he made five years ago.






Photo: Tim0 Newton-Syms/Wikipedia



Also of Interest



See the AARP home page for deals, savings tips, trivia and more