August is the Sunday of the Months
By Becky Gillan , August 27, 2013 12:58 PM
If you are confused by this blog's title, it is a phrase I heard recently from my niece. We were talking about vacation and she said, "Yep, August is the Sunday of the months as it is the time to relax." What do I do to relax? I like to go to movies just like 58% of the 50+ (see our fact sheet below) and Woody Allen's new movie Blue Jasmine is a must see Movie for Grownups. I love Broadway shows and so do 48% of my peers. My most recent Broadway show was Tom Hanks in Lucky Guy. Hanks, in my opinion, deserves his status as "Hollywood Royalty."

Like the majority of my peers, I use the internet as my chief source to plan my weekend activities.

Like the majority of my peers, I use the internet as my chief source to plan my weekend activities. In fact, I get weekly emails from a local movie chain with the trailers from the 15 current shows and I also get several weekly emails from Broadway ticket sellers. But the internet really can suck up time. I find myself browsing through flash sale sites (boy, can you get great deals on stuff you never knew you needed). There is a site with the tag line "the most beautiful things on earth" that I could easily comb through for hours on end. Another form of entertainment for me clearly is web browsing!
When I tire of browsing the internet, I turn to TV, but for me it really is not a primary source of entertainment like it used to be. I don't care for reality shows and more television seems to be devoted to that genre. Comedy, drama, and sci-fi are the top movie categories for the 50+ and I like those TV categories as well. I get comedy and sci fi combined by watching the "Big Bang Theory (BBT)." I never tuned in until my niece lived with me two years ago and asked me to switch it on. There is a cable channel that plays hours of BBT reruns each evening and two years later I am still catching up. Drama is also a top category for the 50+ and who doesn't like Downton Abbey? As we approach season four, we all want to know how Lady Mary will grieve over the loss of her beloved husband in a tragic car accident-clearly an evening soap opera at its best!
Books don't appear on the fact sheet below, but I do get great pleasure in reading. I still love to turn the page of a hard cover book. My favorite books are romance, again in the top five movie categories. It's fun to roam the huge book aisle at Costco while I eat their tasty food samples. However, on my weekly train rides I see that almost all folks have turned to e-readers; in fact, 20% of the 50+ use e-readers. Adoption has almost doubled in the past two years, and while they are less versatile than tablets, their cost, simplicity, and ability to accommodate folks with vision or dexterity problems make them a good choice.
So many fun activities to do and so little time to do them in...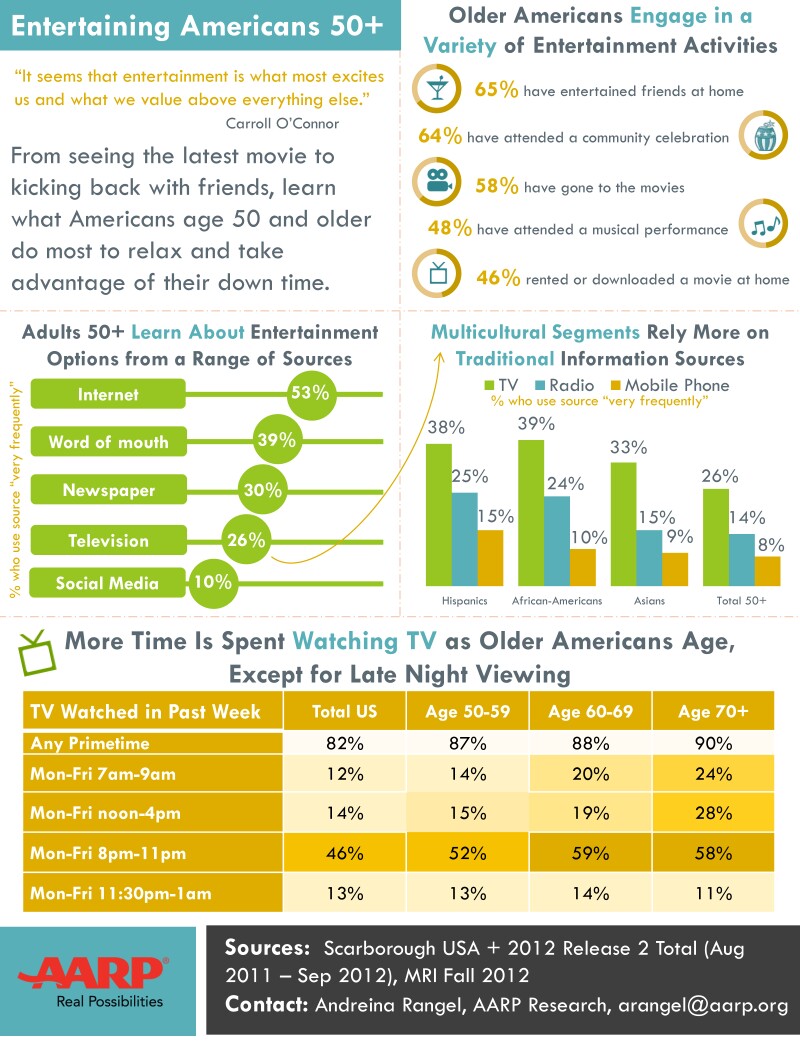 More on Becky: Becky is AARP's Senior Vice President of Research & Strategic Analysis, and is focused on fostering understanding of the interests and concerns of people age 50-plus and their families. Before coming to AARP, Becky served as the Vice President of Global Market Research & Guest Satisfaction for Starwood Hotels & Resorts. In her spare time, she likes visiting her niece in Ohio, gardening and collecting American art and antiques.