'Letters to Jackie' Invites Us to Relive 11-22-63. Where Were You?
By Steve Mencher , June 20, 2013 04:04 PM
Get ready. For the next five months, those of us of a certain age will be returned to the Friday afternoon in 1963 when we heard the most shocking news of our young lives. The president had been shot. We'll tell each other stories about where we were, what we felt and how it changed our world.
The premiere of the documentary Letters to Jackie at the AFI Docs Film Festival in Washington this week invites us to begin that national conversation: resurfacing things we didn't remember or didn't know, tugging our heartstrings, and allowing us to believe that the 50 years since Nov. 22, 1963, brought progress and hope, inspired by the man who was our youngest elected president, the first born in the 20th century.
The film, which will be in theaters this fall and on TLC in November, takes as its starting point a book that culled some of the 800,000 letters written to Jackie Kennedy in the months after the assassination. Actors including Jessica Chastain, Viola Davis, Chris Cooper, Allison Janney, Laura Linney, Frances McDormand, Octavia Spencer and Betty White read the letters as scenes from Kennedy's "thousand days" remind us of his accomplishments (like starting the Peace Corps), his failures (like The Bay of Pigs) and critically important things like Civil Rights that he began, but left for his successor to move forward.
We talked with three participants in the film, who appeared at the premiere: Gretchen Lundstrom Farwell , 70, whose letter describes student reaction at St. Olaf College in Minnesota; John Clark, 75, who spoke on behalf of his late wife, whose letter talked about how JFK had inspired her generation; and Janis Hirsch, 62, who's embarrassed about - yet proud of - the unconventional advice she gave the first lady:
https://soundcloud.com/aarp-social-sounds/letters-to-jackie-interviews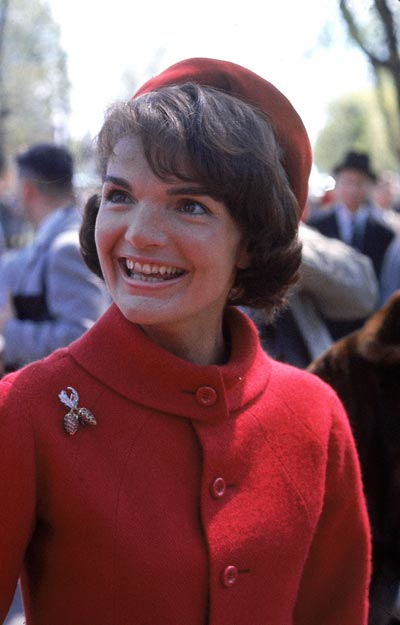 The film premiere was hosted by the Newseum, a Washington museum that celebrates journalism and the First Amendment. Visitors to to the Newseum this summer can return to the days of the New Frontier by viewing an exhibition that features photos of Kennedy family life from the estate of photographer Jacques Lowe, who had unparalleled access to the family in the years before JFK became president. There's also a separate showing of artifacts connected with the assassination, like the newspaper front page above.
The museum has also inspired us at AARP by creating a memorial wall where visitors can post their thoughts and memories. A representative sample is then placed on their "Remembering JFK" Pinterest board. In the months to come, we'll embark on a similar project, and we hope you'll share your memories with us.
Photo: Leonard McCombe/Time & Life Pict
Miami News front page, courtesy of the Newseum
Also of Interest

Join AARP: Savings, resources and news for your well-being
See the AARP home page for deals, savings tips, trivia and more