My Back Pages: An Evening With Bob Dylan
By Bernard Ohanian, November 21, 2012 01:28 PM
On a February afternoon 38 years ago, I walked down Telegraph Avenue in Berkeley with Bob Dylan's voice blaring from speakers in every record store (remember those?), bookshop and café. Dylan was scheduled to perform that night with The Band at the nearby Alameda County Coliseum Arena - the next-to-last stop in his first tour since his near-fatal motorcycle accident 8 years earlier - and it seemed that the whole San Francisco Bay Area was celebrating.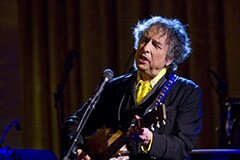 I sure was; I had a ticket to the concert in my pocket.

I don't remember much about the concert (no snickering, please), although fortunately I can revisit it any time I want; the tour was captured for the album "Before The Flood," which rock critic Robert Christgau called "at its best, the craziest and strongest rock and roll ever recorded."






Yesterday, I spent the day sitting at my desk, wearing a suit and sending e-mails in between rushing off to meetings - with Bob Dylan's voice blaring from my computer. For last night, Dylan was scheduled to perform with Mark Knopfler at the Verizon Center in downtown Washington - the next-to-last stop in a tour that began over the summer. This time I had two tickets in my pocket: one for me, and one for my music-besotted son - at 16, a year younger than I was in 1974.

My son plays guitar and harmonica, with Dylan songs a bedrock of his repertoire - and therein lies the problem. His first reaction, when I offered the chance to go to the concert, was to say no; "I want to remember him like he was," my son said, "not how he is now with his voice all old and scratchy." (As opposed to, I held back from responding, young and scratchy?) But a few days later he changed his mind. "If I don't go see him now," he decided, "I'll always regret it."

And so off we went, hoping for no regrets.

Yes, of course the times they are a-changing (you knew I would work that in, didn't you?). How could they not, after 38 years? By my count, Dylan played 5 songs he had played that long-ago night in Oakland. But none of them sounded the same; he gave all of them either a rockabilly or roadhouse blues twist, arrangements designed in part to mask what my son diplomatically calls his "vocal limitations." Dylan didn't even play the same instruments; he rarely plays guitar now, reportedly because of arthritis, so he settled in behind a piano. He played harmonica, and he sang. And yes, my son was right: his voice sounded all old and scratchy.

So what? My son and I knew it would. People in the audience - mostly, by all appearances, folks of AARP age, with some teenagers and "kids" in their 30s and 40s thrown in - were surely disappointed if they came to see a museum piece, perfectly preserved from the 1960s and '70s. Instead, we got a living, breathing, confounding artist who in many ways embodies the best of America - inventive, ever-changing, imperfect.

He barked. He croaked. He growled. And instead of being diffident and uninterested - a charge often leveled at Dylan for his concert appearances over the past five decades - he seemed to be reveling in the moment, at times getting up from behind the piano to prowl the stage like another singer of a certain age: Mick Jagger. My son elbowed me excitedly at one point: "Dad," he said, "he's dancing."

It was, in the end, a performance full of soul. The voice is long, long gone as a musical instrument, but in its place is a rawness and energy that made me feel the songs more deeply than ever. This is what we all hope for as we age: to continue to do what we love; to understand that we may not be able to do it the same way we did when we were 30, but that doing it differently - allowing for, and working around, our limitations - can even be an improvement; and to give pleasure to ourselves and those around us in the process.

My son, at least, got the message. "No regrets?" I asked him as we left the concert. "None," he said. "It was epic." In every meaning of the word, it certainly was.