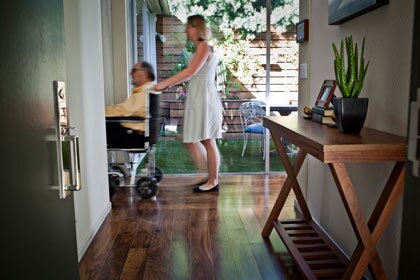 It is lazy summer day and Wendy and George, avid birders, are visiting for the weekend. Over a delicious lunch with one of our local friends, Beth, we sit on the deck and watch the blue herons fly overhead. The conversation quickly turns from birding to country living and eventual retirement.

City dwellers for years, Wendy and George now long for a place in the country. Wendy is smitten by our new home and its views of the pond and wetlands. She asked how we found the place. Then came the broader, more important question, "How did you go about choosing a home? What did you look for?"

I didn't have to think long. Too many relatives and clients have had to move out of their homes when they could no longer negotiate stairs or navigate small cramped spaces with a wheelchair or walker. Mon Dieu! As I age, I want to reduce my stress levels, not increase them. I wanted a forever home so we could stay at home for as long as we liked. Jonathan, my significant other, is a cancer survivor, and stairs and cramped spaces just wouldn't do.

I knew what to tell Wendy:

First, look for a home you can grow old in. Accessibility is key. I know the day will come when we'll be grateful that our bedroom and bathroom are on the ground floor. This was non-negotiable for us. And I made sure that each room was wheelchair friendly (5' turning radius and 32" wide doorways) or that I could easily adapt by removing a wall or enlarging a doorway.

Related: Universal Design can help people age safely in their homes

But even first-floor living is difficult if there are steps to get into the house, so I wanted one that we could easily retrofit with a no-step entrance. When either of us needs to use a walker or wheelchair, the house will be ready! No last minute scrambling for a contractor. (Stay tuned reader - the no-step entrance project is slated for the fall.)

Second, make sure everything you need is nearby. We were lucky. Our house is a five-minute drive from a sprawling grocery store, a home improvement store (great for DIYers like us), and a hospital. And Amtrak is eight minutes away, so we can easily pop down to New York City. Did I mention the great restaurants?

Third, choose a community that's easy to get around in. If the roads get too icy in winter, or eyesight fails, you'll need alternative transportation. Buses, maybe, but at the least one or two reliable taxi services. This is really important.

Lastly, consider the view you dream of. A large lawn? A river, stream, or pond? A garden? I wanted a home that was surrounded by nature's beauty. We found ours on a beautiful green patch of wetlands.

Finally, for Wendy and George, and all bird lovers, make sure your house has trees and flowers, or, at the least, easy access to a wildlife sanctuary. Oops, there's goes another blue heron; hand me the binocs. Maybe they should just rent our upstairs.

Visit RosemaryBakker.com and ThisCaringHome.org, a website for caregivers of persons with dementia. You can also find out more about her book, AARP Guide to Revitalizing Your Home: Beautiful Living for the Second Half of Life.