3 Steps to a Safe & Soothing Bedroom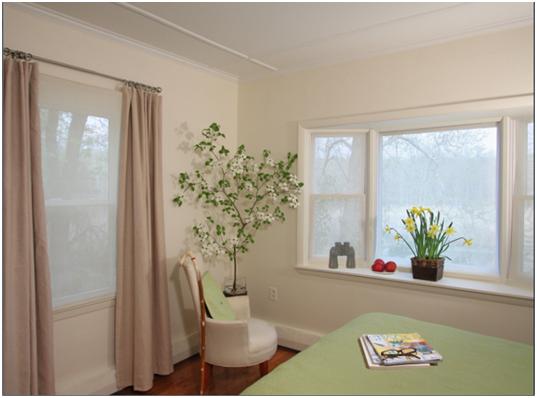 We spend one third of our lives in our bedrooms and, like you, I want to relish the time I spend there. But that's not so easy if the bedroom is cramped, cluttered, or uncomfortably warm or chilly. And for anyone who spends more time in the bedroom because of a medical condition, a comfortable bedroom is a must.

If you're looking for ideas on how to redo your bedroom, read on. I'll share with you three simple things I did to transform our small bedroom into a safe oasis.

1. Open up the space. Although the views out the windows are expansive, the room is not. To put it simply, this master bedroom is no Versailles. In order to create a little breathing space, I decided to remove the built-in bookcases; in a small room, every inch of floor space counts.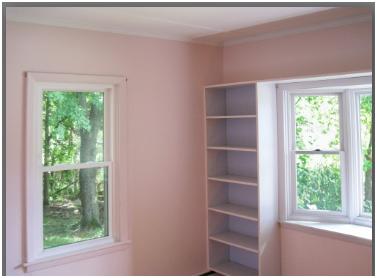 Using a pry bar, a sledge hammer, and some real zest, the bookcases were soon gone. The extra space we gained made the room feel palatial! Not only does the room feel larger, but the added floor space is great for my husband Jonathan who uses a walking stick (the one he carved from a tree branch, hanging on the chair in the photograph). Now we can easily move the chair out if a walker or a wheelchair is needed.

2. Clear the floor. Even though I love the look and warmth of area carpets, I no longer use them: they're way too easy to trip on, and at this stage in life, why chance it? After all, there's a lot in life we cannot control, so when we can, I say, seize the opportunity! Best advice? Choose wall-to-wall carpeting or, like we did, bare wood floors.

3. Hang the proper window coverings. For the windows, I used a layered approach; soft flowing drapes for privacy and solar shades to keep the heat out in the summer. For the drapes, I chose a calming woodsy neutral tone. My favorite sources for ready-made drapes are Pottery Barn, Ballard Designs, and Country Curtains

The energy efficiency solar shades I decided on are made with a mesh fabric that lets in natural light, provides good views, and protects from heat and glare. A great combination, don't you think? By the way, you can choose a solar material with an ultra-thin aluminum backing for extra efficiency come winter.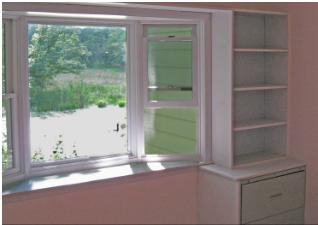 I made my own solar shades with solar screen fabric I purchased by the yard. I "repurposed" a shade roller from the guest room and bought tension rods for the bay window. I'm using white, since it reflects more heat, and a view through weave so I can still see the magnificent blue herons flying over the wetlands. I cut the material to size and sewed hems at the top and bottom. Voila, now I have solar shades!

Ready-made solar shades are widely available but if you want to DIY, you can purchase solar fabric by the yard at several online stores, including Oem Shades, Interior Malls, and North Solar Screen. (Prices vary dramatically among online stores, so shop for the best price.) Expect to pay around $35 and up per yard; widths vary from 44 inches to 118 inches. If you want to go green, there is now a wide selection of eco-friendly solar materials to choose from.

My husband and I just love the new bedroom. We now have a safer, more comfortable refuge, a great place to relax and unwind, and more room to move about. And, hopefully, lower energy bills come the summer and winter!

What changes can you make to transform your bedroom into a safer oasis? I'd love to hear from you. Let's share.

Visit RosemaryBakker.com and ThisCaringHome.org, a website for caregivers of persons with dementia. You can also find out more about her book, AARP Guide to Revitalizing Your Home: Beautiful Living for the Second Half of Life.