Doris Roberts Leaves 'em Laughing, but No One Knows Why
By Al Martinez , August 07, 2013 11:12 AM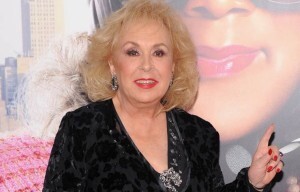 Doris Roberts is the kind of dinner partner who can keep you laughing through the French onion soup, the Waldorf salad, the poached salmon and even the strawberry short cake, although afterwards you wonder what it was she said that made everything so funny.
I pondered the subject over a glass of cognac one gentle summer evening during a party at the home of a mutual friend while Roberts entertained a guest on her other side who, later, also couldn't recall what she had said that made him laugh. "There was something about a dog," he recalled, "and her grandchildren..." But he couldn't give me specifics.
Slideshow: These 50+ faves are in new and returning shows this fall
Truth of the matter is that Roberts, who played the droll, put-down mother-in-law on the old Everybody Loves Raymond, is just naturally funny, generating humor from deep inside the way Mozart wrote operas in his head before applying them to paper. She could not even totally conceal that talent on a TNT show called Major Crimes where she aced a guest role as a more or less straight, unfunny murder suspect.
Her co-guest actors, by the way, were of her age genre-a free-floating number somewhere between 60 and 100- and included people like Tim Conway, Marion Ross and Ron Glass, who were once stars or second bananas on other past shows.
Five-time Emmy winner Roberts is delighted with the notion that older actors are getting roles, thanks a little to the seemingly endless popularity of Golden Girl Betty White, who had her own comedy/reality show, Betty White's Off Their Rockers for two seasons, until it was canceled by NBC. Roberts hopes that her ability to work and the jobs themselves go on forever. As it is, her 58-year career of stage, screen and television seems never to end. She works, she says, all the time.
Roberts has also written a biography, Are You Hungry Dear? The title alludes to the Raymond show in which she doted on Raymond, her son, to the detriment of other family members. Each chapter of the book contains a recipe, because Roberts, who is widowed and lives alone, likes to cook. Out of curiosity, I asked what her favorite dessert was just as the dinner party was ending.
She responded with a familiar wicked smile that said a punch line was about to pop up from her inner river of humor. It did. She replied, "A man dipped in chocolate."
I laughed all the way home.
Also of Interest

Join AARP: Savings, resources and news for your well-being
See the AARP home page for deals, savings tips, trivia and more