So Do You Come Here Often?
By Al Martinez , October 09, 2013 05:25 PM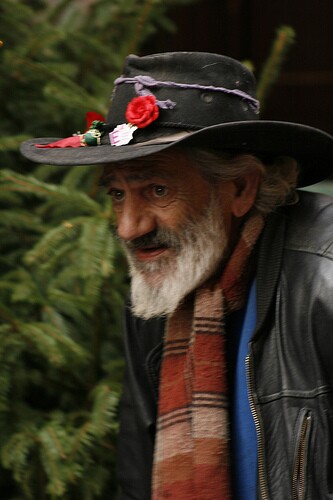 I was in an L.A. restaurant the other evening with a circular bar big enough to accommodate the full crew of an aircraft carrier when I noticed Shorty and his girlfriend. I figured it wasn't his wife because Shorty had to be in his 70s and she was maybe 32, and he was nuzzling her. Men of Shorty's age rarely nuzzle their wives in public and they nuzzle them at home only if they want something.
Shorty caught my attention in the first place because he resembled a friend I will call Darrell who has been a widower for more than a year and is now seeking female companionship. He, like the little guy I was watching, is maybe 5-feet-6 but doesn't care how tall his date might be. He just wants a woman. When I asked why he was looking to date again at 81, he just grinned and winked. Oh my God.
To accommodate his quest he began dressing in tight-fitting Levis and what the kids call a "hoodie," which is to say a sweater-like garment with a hood. It made him look like one of the Sunshine Boys turned convenience store bandit. Darrell used a walker occasionally and I wondered how that would work in a heist; would it enhance his getaway, for instance, or slow him down? A motorized armored wheel chair with after burners would be better.
Darrell, a sour old guy, did not limit himself to "meat market" bars looking for dates, but scoured malls, joined a cowboy dance club, bought a 10-gallon hat and signed up with dating organizations for seniors. He found what were supposed to be the top 10 sites in the country but none of the women he met through the organizations were right. It seems that none of the female applicants were interested in a short, grumpy little cowboy with a slight ability to line dance but limited conversational talents. "You come here often or what's your sign?" don't work anymore. The old dialogue is out.
The dating organizations that cater strictly to those over 50 make every effort to match couples according to their ages and interests and work hard to keep them free of scammers who traditionally prey upon older Americans. But they can't teach them how to be young again. Being old and hip doesn't equate, but you don't have to be old and out of it either. Darrell has given up trying to remember the country western dance steps and has joined a camera club instead.
I expect to see photos of him on Facebook with a new female friend, a short one, I hope, and pictures of his new life. He still wears the cowboy hat but that's OK. He can buy one for her, too, and Roy Rogers and Dale Evans will ride again.
Photo: David Sanggi/Flickr
Also of Interest

See the AARP home page for deals, savings tips, trivia and more