The Dawn of a New Morning
By Al Martinez , July 02, 2014 12:53 PM
I took the first step of my new life today. It was only kind of a baby shuffle, but, by God, to me it was the dawn of a new morning. It had freedom written all over it.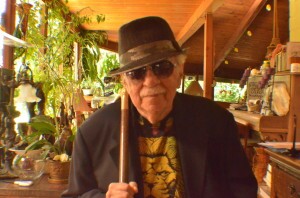 I was at last feeling able to dump the walker that had helped me amble around the house and I was ready to walk, really walk, as any reasonably mature Homo sapiens should.
That first step was accomplished just a few mornings ago as sunlight streamed in through the glass wall that brings the outdoors indoors, adding a golden glow to our amber-tinted tile floor. I was leaning on my walker, but that view of the world out there tempted me. Like a visitor to Lourdes, I wanted to be whole again.
>> Get travel discounts with your AARP Member Advantages.
So I pushed the walker aside and stepped forward unaided, and took that step. Any physical therapist will tell you it was a crazy thing to do; I should have built up to that moment. I could have fallen and, to put it in the vernacular, broken my ass. Everyone gave me hell. Even the dog growled.
But once having tasted freedom, I would insist on walking again and again, but with caution and retraining involved. Yesterday I went food shopping with my wife. The other night we went out to dinner. My therapist, who comes to the house, asked me to at least carry a cane. I thought about how, well, cute Charlie Chaplin looked with a cane, twirling it into the sunset, and said, "Sure, why not?"
I have a dozen canes collected from all over the world. I chose the London cane with a sword in it. Touche!
>> Sign up for the AARP Money newsletter
It has been about four months since I was hospitalized for pneumonia, congestive heart failure, internal bleeding and diabetes, plus the COPD I already had. But I'm upright, I'm walking and I'm loving it.
Well, no, I don't look anything like Chaplin. For instance, I can't get the duck walk right. But I'm working on it. Join me on the road, walkers. There's a new sun arising and it shines on us.
Photo: Adam Weatherall
Also of Interest

See the AARP home page for deals, savings tips, trivia and more