I've had the good fortune to interview a raft of fascinating folks during my 30-plus years as a journalist: Lionel Richie, Shirley Chisholm, Gwendolyn Brooks, Stokely Carmichael (aka Kwame Turé) and many more. But the one person I yearned above all to share time with, Oprah Winfrey, eluded me.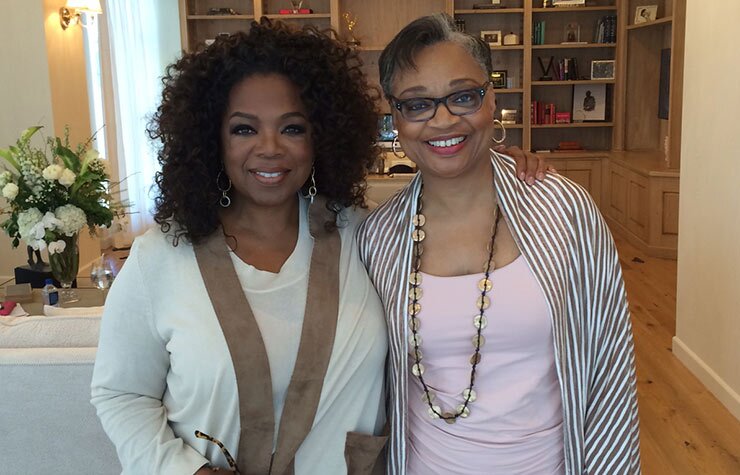 I've long admired her as a woman who, despite meager beginnings, made it big and shared her wealth with others. Say what you want about Oprah, but you can't deny that she has a big heart.
More than anything, I wanted to talk with my sister Christian and product of the Baptist Church about God, faith and spiritual journeys. And exactly how has she managed to reconcile this religious foundation with the New Age teachings and philosophies she has come to embrace?
A new you within reach — Visit AARP Life Reimagined »
Then it happened. The AARP Bulletin sent me to Los Angeles for a one-on-one, hour-long sit-down with the media mogul. The topic of conversation for the cover story would be spirituality pegged to Belief , a new seven-part documentary on her cable network, OWN.
Walking into her airy, light-filled office — an oasis of warmth, serenity and order — I pictured coming face to face with the super-gregarious "You get a car and you get a car" persona I know from TV. What I got was a firm handshake from a toned-down version who was introspective, good-natured, humorous and very much present.
"My spiritual practice is being fully present in this moment for what is happening now," she told me.
I, too, tried to be fully present to take it all in: Oprah's earth-tone, cardigan-pants ensemble and sparkly, gold flats. The Emmy and other awards. Photos of Nelson Mandela and the Obamas. The view of the Hollywood Hills and downtown L.A.
Oprah proved to be an exceptional storyteller, and repeatedly used her gift to answer questions about God and her beliefs. She talked about her grandmother teaching her to kneel when praying. Telling her playmates on the playground about Jesus. The strengthening of her faith after becoming pregnant at 14 and losing the baby. The slow transformation of her view of God as a person to an indescribable, mysterious force. Recounting her appeal to God to guide her after receiving her first $20 million check (huh?!?), her eyes welled up with tears, and Lord, I hoped I wouldn't start crying, too.
I listened intently as Oprah talked about her favorite spiritual teachers, who run the gamut of faiths. She sees everything in life as part of a spiritual journey because we're all spiritual beings, she said. "Eastern influences on Western culture have actually been mind-opening and expanded our way of seeing ourselves as spiritual beings in a human body," she added. And while she loves and respects the Christian church, she does think that excluding people of other religions (or non-religions) because of their beliefs is the opposite of Christianity, which declares that we love everybody.
Donate to help struggling Americans 50+ and older »
Before I knew it, I had gone over my time. "Have you? Really?" Oprah said with surprise.
As I left, I heard her singing my name — or at least a version of it — Beach Boys style: "Ba-ba-ba, Ba-Barbara Ann." I had a better understanding of where Oprah's spirituality springs from and think the conversation was good for her, too.
Photo: Courtesy of Barbranda Lumpkins Walls
Also of Interest

See the AARP home page for deals, savings tips, trivia and more