Why I Won't Celebrate 'Bring Your Parents to Work Day'
By Mary C. Hickey, November 6, 2013 10:02 PM
Late yesterday, I got an email reminding me that today is the first annual "Bring Your Parents to Work Day."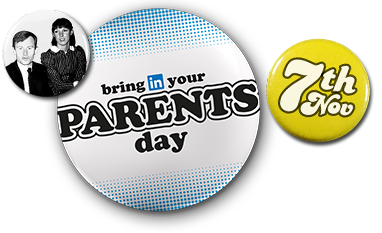 LinkedIn, which created the occasion, describes it as "a global initiative designed to help bridge the gap between parents and their professional children."

When I read this my first reaction was, What gap? The millennials certainly don't have anything approaching the generation gap we boomers had with our moms and dads. My second reaction was to email my 24-year-old, who, by the way, accompanied me to my office on many "Take Your Daughter to Work" days over the years.

"Can you bring me to work with you tomorrow?" I asked, attaching the relevant info about what prompted my request.

She responded within seconds: LOL!

I took that as a no.

Looks like the apple doesn't fall far from the tree. I, too, find the issue of parents in the millennial's workplace kind of amusing - though it's clearly a notion that's building steam. Over the past couple of years, I've been reading about companies with programs for parents of young employees. And earlier this month, a colleague wrote about a survey showing that 8 percent of college graduates had their parents accompany them to a job interview.

Doesn't this all just seem like helicopter parenting run amok?

I checked in with some coworkers to see what they thought of the idea.

"At my daughter's wedding, I met her manager," one told me. "She said I had to come and see my daughter on the job ... she was amazing! I can't wait to go and see her in action (and shed a few tears when I see that she's becoming me)!"



"It sounds like great fun to me," replied another colleague, a dad. "It takes me back to when I'd volunteer in my kids' classrooms and got to meet their friends and teacher and see them all interact together. I always came away proud." He contacted his daughter to ask if she would bring him to her job. "Yes please!!! " she told him. "I've often thought about the day I could bring you to work. Plus then we could actually talk. Love you!"

Hmmm ...

I reached out to some other millennials, and they, too, seemed totally on board.

"I think it's kind of cute, actually. Aww parents."

"My parents would trip over themselves to come in if they weren't so far away."

"My mom is my biggest fan, so I imagine bringing her to work would be a blast."

"I brought my parents to work last week! (But not for the whole day.)"

Uh-oh! I emailed my daughter again, asking why I couldn't come to her office. "No one wants to bring their parents to work," she wrote. "It's embarrassing!"

Then the guilt must have settled in. Another email arrived just a few minutes later: "Just Kidding!" she wrote. "You are always welcome to come to my office.

"Just not on November 7."




Photo: LinkedIn