4 Pointers for Dads on How to Embrace Their Adult Kids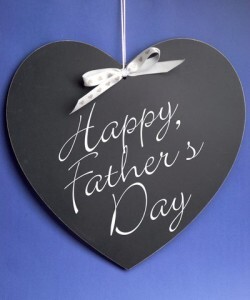 Too often dads take a back seat to moms, especially when it comes to holidays. A recent survey found that if Father's Day and Mother's Day fell on the same Sunday and adult children could celebrate only one, more than three-quarters would opt for mom! Apparently, mom is more deserving of the attention, and children claim to have more in common with her, the survey found. Even when it comes to spending, Father's Day (this Sunday if you need a reminder) is the lowest-ranked holiday, with an average of $119.84 spent on ties and other uninspired gifts. In comparison, Mother's Day ranks third after Christmas and Valentine's Day.

While dads might not be ringing up record sales, fatherhood is still critical for providing values and morals, according to a Pew survey. That survey found almost 60 percent of Americans believe it's important for dad to be a "moral teacher and emotional comforter rather than a breadwinner or disciplinarian."

Get the latest tips on staying healthy — AARP Health Newsletter »

For more than a decade, author Jay Payleitner has been offering that same message in his dozen books about fatherhood. A writer and radio producer from suburban Chicago, Payleitner, 57, readily admits that he has no formal education in therapy or counseling. But with four sons and one daughter, ages 22 to 35, he has plenty of on-the-job training offered in his humorous, empathetic books filled with parenting wisdom.

After reading two of his books, 52 Things Sons Need From Their Dads and 52 Things Daughters Need From Their Dads, we contacted Payleitner for some Father's Day advice. Here are a few of his suggestions.

Keep the front porch light on

Last summer one of Payleitner's sons was trying to save enough money to buy a new house. So he and his wife welcomed the son, his wife and their baby into their home for nine months. Not only was the couple able to save enough for a down payment, Payleitner says, "It was a privilege to help them out and spend time with them." He points out that there's a difference between enabling adult children who are floundering in life as opposed to those who need some temporary help. "It could be a few days or a few months, but you want them to know that the light is on and the door is open if they need you."

Honoring Fathers, what is the best trait you got from your father? »

Make life easier

"When kids are young, your job as a dad is to make their life somewhat uncomfortable by challenging them to make sure they are not wasting their days on video games instead of exploring life," he says. However, the goal of a dad with older children should be to make their life easier. "They have all kind of pressures and bills to pay and bosses to keep happy, so you help them when they need it." For example, although it cuts into his work hours, Payleitner and his wife watch two toddler grandchildren two days a week to help out.

Keep the family home a happy place to visit

"When my kids pull into the driveway, they should be looking forward to an afternoon or a few days of comfort and relaxation, and when they leave, be happy they were here," he says. Too often young adults are greeted with "It's about time you visited" and leave feeling guilty. And, no interrogation about work or life. "Cook their favorite foods and just talk about the meal. They're already getting enough pressure from the outside without being challenged by parents."

Get discounts on hotels, airfare, car rentals and more — AARP Member Advantages. »

Be a friend

There's a saying that our real friends are the people who come if we called them at 2 in the morning. That should hold true for parents, Payleitner says. "Whether it's how to deal with a nasty letter from the IRS or a neighbor's sap falling on their car or a major crisis, be ready to head out anytime with a mop and a bucket. Even adult kids need to know that you will drop everything for them."

Mary W. Quigley's blog, Mothering21, tackles parenting of emerging adults and beyond.

Photo: millefloreimages /iStock

Also of Interest:

See the AARP home page for deals, savings tips, trivia and more.