How to Enjoy a Vacation With Your Adult Children
Family vacations run the gamut from a mountain cabin shared with mice and other creatures to a retirement celebration in Hawaii. As we jump on planes, trains and automobiles for multigenerational summer sojourns, what can we do to guarantee five-star success?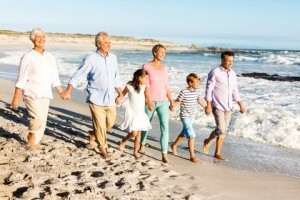 I consulted three experienced family vacationers who've traveled near and far with adult children and grandchildren in the toddler-to-teen range. All agree that planning is essential. Who pays for what - transportation, meals, rentals, activities - must be discussed in advance. Are the parents picking up the tab or are adult children expected to pay? How much and for what? Clarifying costs will minimize misunderstandings later.
>> Sign up for the AARP Money newsletter
Location is another key element of vacation bliss, and each spot presents different challenges.
Family home
Twice a year, the adult children of Helen Oxenberg, an advice columnist and retired social worker, vacation at her New Jersey home. Her suggestions:

Be realistic. Plan what you would like to happen and then lower your expectations. "Think of it like packing a suitcase for a trip and then just before you leave taking out half the clothes," she says.
Don't play the role of victim. Oxenberg typically cooks an elaborate meal featuring five - count 'em, five - ducks, which means that she's in the kitchen missing out on the fun. While her children tell her that takeout is fine, she likes to keeps the tradition going - by choice. "If you are going to do something that makes you tired," she points out, "then you're going to start to resent it."
On the beach or at a lake

When I chatted with Ruth Nemzoff, author of Don't Roll Your Eyes: Making In-Laws Into Family, she was heading off for a swim with her family on a New Hampshire lake. Her suggestions:

Decide your bottom line for togetherness. Does everyone gather for all three meals or just dinner? "It usually works better if people have individual experiences during the day and then share at them at dinner," she says.
Set out some house rules. Do you expect all the dishes to go right into the dishwasher? Towels to be used several times before being thrown on the floor (oops, the hamper)?
Let the adult children do some planning. "The problem with control is that it's wonderful to be in charge, but then you get the blame when something goes wrong."
>> Get travel discounts with your AARP Member Advantages.
Tourist destination
This "neutral ground" can inspire family harmony, says Melinda Blau, author of Family Whispering, who recently traveled to Universal Studios Florida with her daughter's family. Her suggestions:

Consider everyone's stamina level. You can easily end up walking five miles in the heat. Maybe Grandma can take the toddler back to the hotel for a joint afternoon nap.
Don't get in the middle of a discussion about which attraction or restaurant to go to next. You're along for the ride, literally and figuratively.
Be a good sport. Blau was the only one of three adults willing to go on the terrifying Incredible Hulk roller coaster with an 11-year-old. "I wanted my grandson to remember that his 70-year-old grandmother was brave enough to go on a ride that was scary as hell and had fun!" she says.
Mary W. Quigley's blog, Mothering21, tackles parenting of emerging adults and beyond.

Photo: Neustockimages/iStock
Also of Interest

See the AARP home page for deals, savings tips, trivia and more