Why Millennials Are Waiting to Have Children
By Mary W. Quigley, February 02, 2015 05:37 PM
Remember this jump rope ditty? "First comes love, then comes marriage, then comes Sally with the baby carriage. How many babies will she have?" Then we'd madly jump, getting to 20 or 30 babies before pooping out.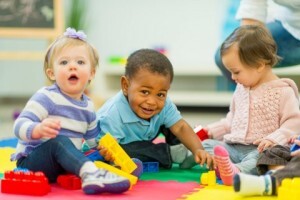 While our adult children likely never sang that song (or jumped rope for that matter), they have given the rhyme their own real-life twist: Either babies come before marriage or they come years after marriage, usually depending on the education level of the mom.

The median age of having a first baby is 25.7, younger than the median age of marriage, 26.5. Some experts have dubbed this "The Great Crossover," and found that it occurs most frequently among women who have a high school degree or some college. In contrast, there has been no "crossover" for college-educated women, who typically have their first child more than two years after marrying, according to the National Center for Family & Marriage Research.

Economics and career paths play a role. The women without college degrees tend to have children outside of marriage even though they usually live with a partner. But some partners, unable to find a job that supports a middle-income lifestyle, are often reluctant to commit to marriage, according to the report "Knot Yet: The Benefits and Costs of Delayed Marriage in America."

However, married college graduates delay having children because they want to climb the career ladder and become more financially secure, leaving their boomer parents wondering: Will I ever become a grandparent?

The answer seems to be maybe. A professor at the Wharton School of the University of Pennsylvania conducted two parallel studies — one in 1992 and the other in 2012 — asking new college grads whether they planned to have children. In 1992, more than three-quarters of the Gen Xers said yes. Twenty years later, more than half the millennials said no.

The professor, Stewart D. Friedman, discussed his survey results in "Baby Bust: New Choices for Men and Women in Work and Family." Among his findings about why millennials delay or forgo having children:

Anxiety about the future, in part because they started their college years during the Great Recession
Worries about paying off student debt
Concerns about balancing family life with jobs that they expect to work upwards of 70 hours weekly


Their economic concerns are certainly not unfounded: A survey estimates that in the first year alone, a baby costs more than $26,000, for everything from equipment to day care to expanded living quarters.

Most millennials want children, said Friedman, but "they just don't see how they can make it happen." Many grew up with both parents working full time and trying to manage career and family. "There's a lot of anxiety about that. They saw how hard it is, and they don't know how they can do it without some kind of support."

>> Looking for a fun gift idea? AARP can help you celebrate that special birthday. Shop now

Some hopeful news: A 2014 Clark University survey found that two-thirds of older 30-somethings were parents and they reported that having children brought considerable happiness despite the drawbacks. "What other human experience could damage your finances, your sex life and your career, and still be regarded as your greatest source of joy?" noted Jeffrey Arnett, who conducted the study.

Mary W. Quigley's blog, Mothering21 , tackles parenting of emerging adults and beyond.

Photo: CEFuthcer/iStock

Also of Interest:

See the AARP home page for deals, savings tips, trivia and more.