Why Millennials Need Helicopter Parents to Stop Hovering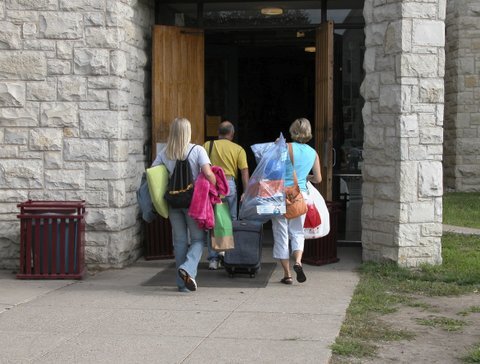 The great college move-in begins this week. Getting the students there is the easy part. Getting the parents to leave — in both mind and spirit — is the challenge. Indeed, though some colleges have show-parents-the-exit programs, many parents still hover from home.

The University of Oregon has a section about "helicopter parenting" on its counseling services page. Telltale signs range from texting or emailing more than once a day to completing assignments or pushing a particular major. The counseling center warns that helicopter parenting can result in adult children's overdependence, inability to make their own decisions and even depression.

As freshman dean at Stanford University for more than a decade, Julie Lythcott-Haims dealt with hordes of helicopter parents. She started investigating and found that overbearing parents were a phenomenon at colleges around the country. Her research culminated in a new book, How to Raise an Adult: Break Free of the Overparenting Trap and Prepare Your Kids for Success.

While overparenting might seem like a 21st-century ill, it was a series of "cultural shifts" in the 1980s that have turned us, she writes, into "our kids' concierge, personal assistant and secretary … making sure their lives are safe, selected, chosen, recommended, planned, decided, approved, improved, done, accomplished, handled, coached, figured out, fixed, arranged, solved, resolved, absolved, shaped, designed, orchestrated, enabled and dreamed up."

How did that happen? Lythcott-Haims details four changes:

The increased awareness of child abductions, beginning with the 1981 murder of Adam Walsh. Soon after, missing children's faces began appearing on milk cartons.
The 1983 federal report, A Nation at Risk. After it argued that American students could not compete with the their global peers, schoolwork and testing shifted into high gear.
Self-esteem movement, a philosophy that became popular in the 1980s and resulted in all those soccer trophies for showing up rather than achievement.
The playdate, circa 1984. This began as record numbers of moms started working and no longer could open the back door to send kids out to play. "Once parents started scheduling play, they then began observing play, which led to involving themselves in play," she writes.
Those kids, the oldest now in their 30s, started going to college in the late 1990s, and that's when Lythcott-Haims took notice. While the students were more accomplished than ever in terms of activities, grades and courses, they also seemed unable to make decisions without their parents' help, and they were not the least bit sheepish about it. She writes:

"My students were not only celebrating the joys of life with parents, they turned to them whenever something went even mildly wrong: a flat tire, a tiff with a roommate, a less than great grade on an assignment, as if their first instinct was to call or text a parent — an instinct as natural as taking a breath of air — and as essential. They didn't seem to know how to contend with what life would throw their way."

Get discounts on hotels, airfare, car rentals and more — AARP Member Advantages. »

Lythcott-Haims proposes "Another Way" of raising children. Some of the suggestions, such as unstructured play time and teaching life skills from cooking to cleaning, are great advice that we can heed as grandparents. And it's not too late to incorporate some of her ideas for our adult children. Next time the call comes from them with a problem, she suggests: "Listen thoughtfully, ask some questions based on our own sense of the situation, then say, OK. So how do you think you're going to handle that?'"

Because we have "been there, done that" with many of life's big and little problems, it's so easy to jump in with the fix for our adult children. But Lythcott-Haims offers a compelling reason to resist that temptation: "Trying to boost them up, we are paradoxically tearing them down. We over-help so as not to disadvantage them, yet they're disadvantaged because we do so much."

Mary W. Quigley's blog, Mothering21 , tackles parenting of emerging adults and beyond.

Photo: ArtBoyMB/iStock

Also of Interest:



See the AARP home page for deals, savings tips, trivia and more.