Los trabajadores mal pagados o sobrecargados podrían tener un alivio
Millones de personas que hoy trabajan largas horas podrían contar con mayores ingresos... o más tiempo libre. O ninguno.
Se espera que a mediados de mayo el Department of Labor de Estados Unidos amplíe formalmente el número de trabajadores con derecho a pago de horas extras (en inglés).
Fotos: Gana dinero sin salir de casa
Los cambios están destinados a dar una compensación más justa a algunos empleados muy mal pagados que no reciben horas extras a pesar de que trabajaron más de 40 horas a la semana. ¿Por qué? Debido a que tienen algunas "funciones gerenciales".
Sin embargo, algunos empleadores podrían encontrar maneras de resolver las nuevas reglas.
El año pasado, el Department of Labor propuso primero doblar el nivel de ingreso a partir del cual alguien podría recibir pago por horas extras. Sugirió incrementar ese límite de $23.660 (actual) a $50.440 al año.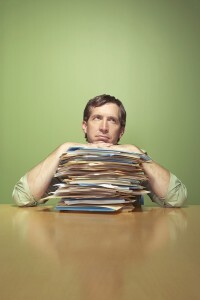 Pero las compañías, negocios, empleadores no estuvieron dispuestos a aceptar ese gran incremento. Y la expectativa ahora es que el Department of Labor reduzca un poco, posiblemente a $47.000 anuales.
Si eso sucede, cualquiera que gane entre $23.660 y $47.000 podría calificar automáticamente para que le paguen horas extras.
¿Te gusta lo que estás leyendo? Recibe contenido similar directo a tu email
En ese caso, los 13,5 millones de trabajadores podrían beneficiarse directamente, de acuerdo con los cálculos del Economic Policy Institute (EPI, en inglés).
En total, el 33% de la fuerza de trabajo podría calificar para el pago de horas extra, independientemente de sus funciones en el trabajo, según calcula EPI.
Parece una buena oferta para una gran cantidad de trabajadores.
La nueva regulación significará más dinero para algunos. Ya sea porque sus empleadores les paguen por las horas extra trabajadas, o porque les den un aumento para poner sus ingresos por encima del nuevo nivel convenido, aunque de esa manera permanecerán exentos del pago por tiempo extraordinario.
Para los demás trabajadores, la nueva norma podría significar simplemente más tiempo libre. Los empleadores que no quieran pagar las horas extra podrían no permitir que los empleados beneficiados por la regla trabajen más de 40 horas a la semana.
Pero podría haber resultados menos positivos para algunos trabajadores con funciones directivas que tienen salarios bajos.
Por ejemplo, podrían trabajar las mismas largas horas sin pago extra. ¿Cómo? Esto puede ser si el empleador llegara a reducir el salario de base por hora para compensar las horas extraordinarias. (Es legal hacerlo).
Los trabajadores podrían no ver mucho cambio es si el Department of Labor decide dejar que los empleadores cuenten la prima o bono de un trabajador como parte de su ingreso total.
Ahorra en tus compras con los descuentos de AARP
O un empleador puede decidir pagar a regañadientes el tiempo extra, pero eliminar las bonificaciones. O reducir los beneficios para compensar los costos extras de nómina.
Cualquier cosa es posible en el mundo laboral. ¡Suerte!
También te puede interesar:

Foto: FangXiaNuo/Istockphoto