Corte Suprema declara que el matrimonio igualitario es un derecho
En una decisión histórica, la Corte Suprema de Estados Unidos decretó este viernes que ningún estado puede prohibir los matrimonios entre personas del mismo sexo, lo que representa la mayor victoria para los activistas por los derechos gay en este país hasta el momento.
En una votación de 5 votos a favor y 4 en contra, el máximo tribunal de justicia estadounidense decretó la legalidad del matrimonio entre parejas del mismo sexo, considerando que es un derecho.
El fallo 5-4 tuvo al juez Anthony Kennedy, que se sumó a los cuatro miembros de la Corte Suprema de tendencia progresista para permitir el matrimonio igualitario: "No hay ninguna unión más profunda que el matrimonio", escribió el juez conservador.
En nombre del principio de igualdad de todos ante la ley, "la 14ª Enmienda (de la Constitución) requiere que un estado celebre el matrimonio entre dos personas del mismo sexo", añadió Kennedy, expresando la mayoría de la Corte Suprema. "El derecho al matrimonio es fundamental".
El caso llegó a la Corte Suprema después de que varias cortes menores anularon prohibiciones estatales en matrimonios gay. Una corte federal de apelaciones había fallado previamente a favor de las prohibiciones estatales, con el juez Jeffrey Sutton del sexto circuito de la Corte de Apelaciones de EE.UU. escribiendo una opinión mayoritaria bajo la lógica de que la cuestión debía ser decidida a través del proceso político, no por las cortes.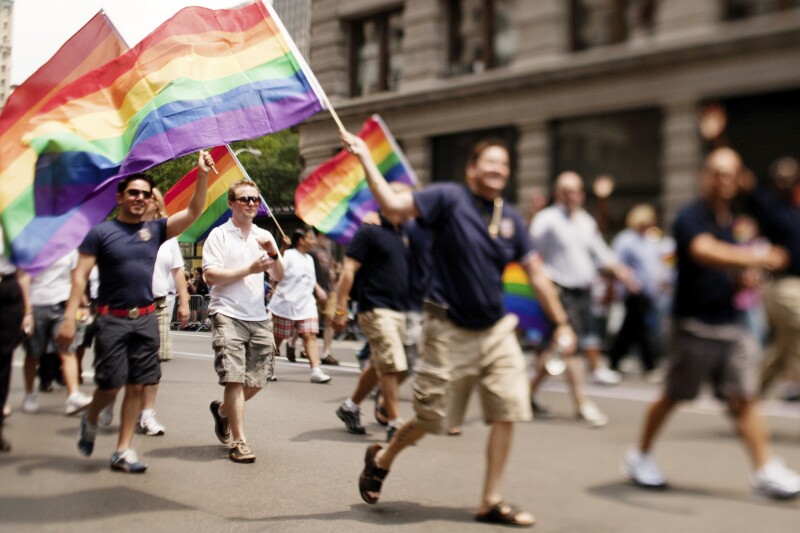 14 parejas y dos viudos objetaron las prohibiciones. Los fiscales Mary Bonauto y Doug Hallward-Driemeier presentaron su caso ante la corte, argumentando que la libertad de casarse es un derecho fundamental de todas las personas y no debía dejarse al voto popular.
Las objeciones incluían a parejas del mismo sexo que querían casarse, aquellas que buscaban que sus matrimonios legales en su estado fueran reconocidos en otros estados, así como aquellos que querían modificar un certificado de nacimiento o de muerte con su estado civil.
El principal demandante en el caso es Jim Obergefell, quien se casó con su esposo John Arthur en 2013, meses antes de que Arthur muriera.
La pareja, que vivía en Ohio, tuvo que viajar a Maryland en un avión médico para poder casarse cuando Arthur enfermó gravemente. Cuando Arthur falleció, Obergefell empezó a luchar por ser reconocido como el esposo de Arthur en su certificado de defunción.
Durante una conferencia de prensa, Obama dijo que la decisión de la Corte reafirma un principio fundamental del país, que todas las personas fueron creadas iguales. "Este fallo fortalecerá a nuestras comunidades al ofrecerles a las parejas del mismo sexo que se aman la dignidad del matrimonio en esta gran tierra".
"Estados Unidos debería estar muy orgulloso", concluyó el presidente.
Pocos minutos después de que se diera a conocer el fallo, escribió en su cuenta oficial de Twitter: "Hoy dimos un gran paso en nuestra marcha hacia la igualdad. Las parejas gay y lesbianas tienen hoy el derecho a casarse, como cualquier otra. #ElAmorGana".
Today is a big step in our march toward equality. Gay and lesbian couples now have the right to marry, just like anyone else. #LoveWins

— President Obama (@POTUS44) June 26, 2015
La enmienda 14 dice que los estados deben permitir el matrimonio de parejas homosexuales. Según esta votación, los estados están obligados a reconocer las uniones entre dos personas del mismo sexo si esa unión fue legal, con licencia, y aunque se haya celebrado en otro estado.
A las afueras de la Corte Suprema, donde se habían concentrado partidarios del matrimonio homosexual desde primera hora de la mañana, la multitud estalló en una gran ovación al conocer la decisión, según las imágenes de las televisoras locales y nacionales, que transmitían la espera del fallo.
Foto: andipantz/istockphoto