Estos son los 10 'colleges' más caros de EE.UU.
La educación en los institutos técnicos superiores de Estados Unidos, mejor conocidos como 'colleges', cada vez demanda matrículas y cuotas más costosas, sobre todo en las instituciones privadas, según un reciente informe revelado por el Departamento de Educación de Estados Unidos.
Fotos: Guía de becas universitarias para hispanos.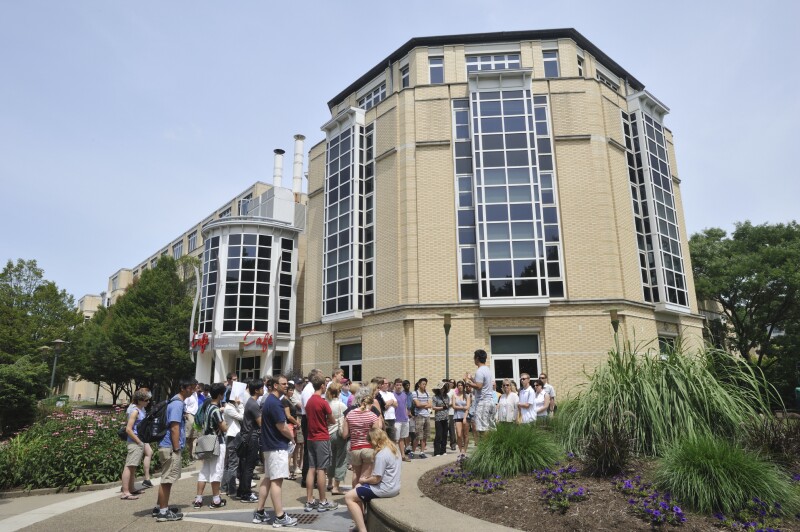 La matrícula en una de las 10 universidades más caras del país vale casi $50.000 sin incluir los gastos de alojamiento, comida o libros. De hecho, el costo total de la matrícula durante cuatro años en cualquiera de los 10 colleges más caros totalizará más de $200.000, según el College Affordability and Transparency Center.
Encabezando la lista está el Landmark College, una pequeña universidad privada en Vermont que se especializa en enseñar a estudiantes con problemas de aprendizaje como Dislexia, y Trastorno de déficit de atención con hiperactividad (AHDH, por sus siglas en inglés). Permite menos de 500 alumnos y cuenta con una ración de estudiantes por facultad de 6 a 1.
La Universidad de Columbia ocupa el segundo lugar, con una matrícula apenas $500 menos que la anterior. Está situada en la ciudad de Nueva York y cuenta con unos 27.000 estudiantes de pregrado y de posgrado. Los estudiantes pueden pagar casi lo mismo que en otras instituciones en la lista por alojamiento y comida: $12.000 para ser exactos.
La 10 universidades en la parte superior de la lista son las mismas que el 2014, a excepción de la Universidad de Tulane en Louisiana. Sustituyó a Bucknell, ubicada en Pennsylvania, en el décimo puesto.
La mayoría de estas universidades ofrece becas y ayudas en las que los estudiantes no tienen que pagar, por lo que no todo el mundo está pagando el precio completo de la matrícula. De hecho, el estudiante promedio de la Universidad de Columbia realmente paga cerca de $20.800 al año, según el Centro Nacional de Estadísticas de Educación.
Las universidades públicas generalmente cobran menos por matrícula que las privadas. La Universidad de Pittsburgh cobra a residentes del estado $17.100, convirtiéndose en la institución pública más cara en la lista de este año. La sigue Penn State, cobrando $16.992 al año.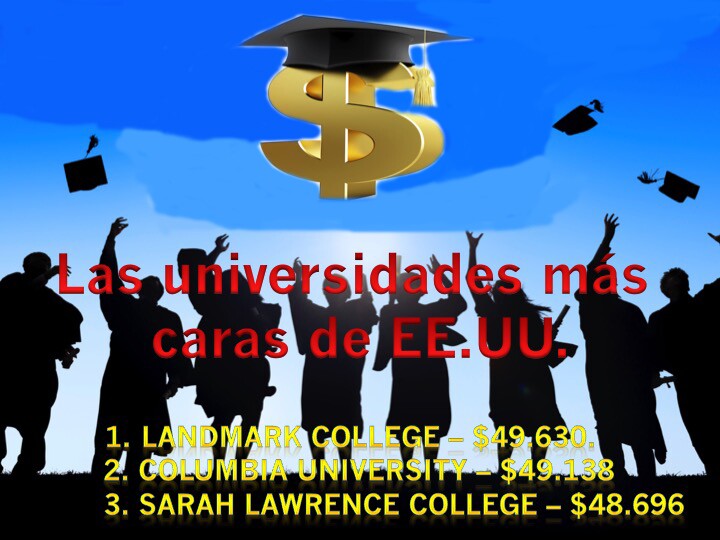 ¿Quieres ahorrar? Recibe descuentos en compras, entretenimiento, salud y mucho más.
Las siguientes instituciones universitarias obtuvieron el mayor rango en costo, por matrícula, durante el año escolar 2013, según los datos publicados 1 de julio, por el Departamento de Educación.
1. Landmark College - $49.630
2. Columbia University - $49.138
3. Sarah Lawrence College - $48.696
4. Vassar College - $47.890
5. Carnegie Mellon University - $47.642
6. University of Chicago - $47.514
7. Trinity College - $47.510
8. George Washington University - $47.343
9. Wesleyan University - $47.244
10. Tulane University - $46.930
Al igual que con los privados, los 10 'colleges' públicos más caros tienen costos que duplican el promedio nacional, aunque todavía son significativamente más bajos que los de sus contrapartes privados.
La Universidad de Pittsburgh ocupó el primer lugar en la lista, con un precio de $17.100 para la matrícula para el año universitario 2013-2014.
Le siguieron la Universidad Estatal de Pennsylvania, la Universidad de New Hampshire, y la Escuela de Minas de Colorado, que cobraron más de $15.000 al año.
Las universidades de Pennsylvania componen casi la mitad de los 20 colleges públicos más costosos.
Estos son los 10 'colleges' públicos más costosos:
1. University of Pittsburgh (campus de Pittsburgh) - $17.100
2. Penn State University - $16.992
3. University of New Hampshire - $16.496
4. Colorado School of Mines - $16.485
5. University of Vermont - $15.718
6. College of William and Mary - $15.463
7. New Jersey Institute of Technology - $15.218
8. Penn College of Technology - $14.940
9. St Mary's College of Maryland - $14.864
10. University of Illinois at Urbana-Champaign - $14.750
Foto: aimintang/istockphoto
También te puede interesar: