Los mejores y los peores lugares donde morir en el mundo
El Reino Unido es el mejor lugar donde podría morir una persona.

Esto según el Quality of Death Index (Índice de Calidad de Muerte) que publica anualmente The Economist Intelligence Unit (EIU), teniendo en cuenta los cuidados paliativos de salud que se prestan en 80 países de diferentes continentes.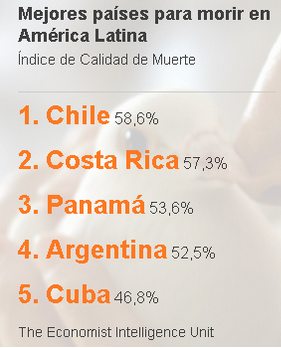 Fotos: ¿Quieres retirarte en el extranjero?

En América Latina, la primera posición del mejor lugar donde morir la ocupa Chile, que obtuvo 58,6 puntos. Le siguen Costa Rica (56,3), Panamá (53,6), Argentina (52,5) y Cuba (46,8).

Por su parte, Perú (36) y Puerto Rico (40) acompañan a Colombia, Guatemala y República Dominicana en la lista de los cinco peores de la región.

En la investigación se tuvieron en cuenta cinco categorías en medicina paliativa: calidad, accesibilidad, entorno, recursos humanos y participación de la comunidad.

"Hemos observado cambios sin precedentes en la manera en la que el mundo está envejeciendo. Hoy en día, hay más personas de 65 que de 5 años", señaló Stephen Connor, del Worldwide Hospice Palliative Care Alliance.

Suscríbete a nuestro boletín.

A medida que la sociedad envejece, se vuelve más necesario proporcionar servicios paliativos de calidad.

"La aplicación de políticas nacionales es esencial", cita el informe.

Chile —el mejor calificado de la región— se encuentra en la posición 27 dentro la escala mundial, por debajo de Portugal, Israel y Polonia, y por encima de Mongolia, Costa Rica y Lituania.

Los casos de República Dominicana y Guatemala resultan preocupantes —ocupan los puestos 75 y 74 de la lista global— y están en el mismo grupo que Irak, Egipto, Filipinas y Rumania, en la categoría que mide el "entorno paliativo".

La nota tan baja, según el Índice de Calidad de Muerte del EIU, se debe a que "ninguno de estos países cuenta con una estrategia gubernamental de desarrollo y promoción de cuidados paliativos".

Ciertamente, los cuidados que se obtienen en la fase terminal de la vida —cuidados paliativos— serán mucho peores allí que los que se pueden recibir en otros lugares del mundo.

Población envejecida y cuidados paliativos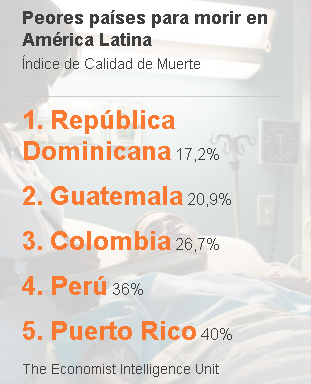 Está en aumento la proporción de población envejecida y de casos terminales por cáncer o cardiopatías en muchos países. Y los cuidados paliativos tienen, cada vez más, una relevancia mayor, explica el EIU en su investigación.

También hay que tener en cuenta la "demanda", dice el informe.

Según la Organización Mundial de la Salud (OMS), los cuidados paliativos "mejoran la calidad de vida de los pacientes y de sus familiares, proporcionando tratamientos para el dolor y otros problemas, físicos, psicosociales y espirituales".

Ahorra en tus compras con los descuentos de AARP

A nivel mundial, el Reino Unido (93,9), Australia (91,6) y Nueva Zelanda (87,6) son los tres mejores países donde morir, según el índice de The Economist. Les siguen Irlanda (85,8) y Bélgica (84,5).

Al extremo de la balanza se encuentran Irak (12,5), Bangladesh (14,1), Filipinas (15,3), Nigeria (16,9) y Myanmar (17,1).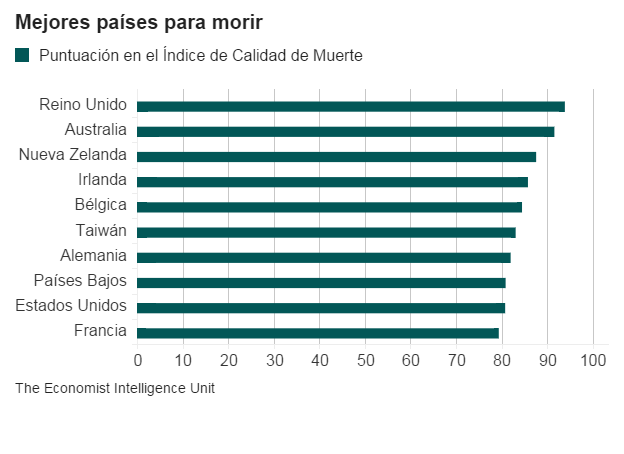 Gráficos: The Economist Intelligence Unit



También te puede interesar: