10 New Year's Resolutions to Prevent Scams
By Sid Kirchheimer , January 02, 2015 07:30 AM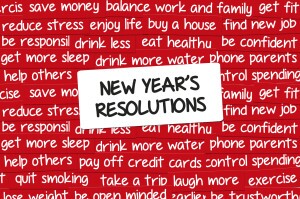 Pledging to drop pounds might be the most popular New Year's resolution, but consider adding these 10 simple steps to reduce your risk of scams in 2015 and beyond:
Get your credit report – three times a year. Only about 1 in 6 Americans check their credit reports annually with each of the three credit bureaus, and 1 in 4 check with only one bureau, AARP has found. Bad move, since everyone is entitled to three freebies per 12 months at AnnualCreditReport.com. It's important to check with each bureau because information in your name can vary, and it's generally best to space each credit report check every few months.
Be a better shredder. In addition to regularly destroying bills, receipts, bank statements and other paperwork with personally identifying information by using a "micro-cut" or cross-cut shredder, don't ignore prescription labels. Stolen from your trash, those labels can be used by crooks to refill your prescriptions for their own use or to sell, which could prevent you from getting necessary refills.
Be less "social" on social media. Even with privacy settings — and especially without them — be cautious with personal details, including names of family members that could be harvested for the Grandparents Scam. Your birthdate, hometown, high school or other snippets could be pieced together for identity theft.
Rewrite your passwords. I think of my log-in credentials like furnace air filters, changing most of them every month or two (and that includes user names). This isn't necessary for online newspaper subscriptions and the like, but if it's been a while, now is a good time to review computer and smartphone log-in credentials on bank, brokerage, credit card accounts and PayPal. Create passwords with up to 15 characters, mixing letters, numbers and symbols. Use different passwords on different accounts; a password manager helps with issuing and storing various passwords in an encrypted database.
Mind your money. It takes only a few minutes each day to check all of your financial accounts online to ensure there are no unexpected or fraudulent transactions. If you don't have online access to your accounts, get it; it is safer than mailed statements.
Prepare and file your taxes ASAP. More than $5 billion in fraudulent tax refunds were issued in 2013, as scammers e-filed fraudulent returns to collect refunds as entitled taxpayers. This is often done early in the tax preparation season, and your best defense is to beat the crooks by filing early. In coming weeks, pay especially close attention to expected tax documents; late January and early February is prime time for carrier-tailing crooks to steal just-delivered forms. A locking mailbox is a great defense, yet is used by fewer than half, according to AARP research.
Avoid junk mail. Get off mailing lists for pre-approved credit card offers – a gold mine for identity thieves – by calling 1-888-567-8688 or visiting optoutprescreen.com. Stop other so-called junk mail at dmachoice.org (mailed requests cost $1).
Ask about new "smart" credit cards. By October, at least half of the 1.2 billion payment cards in the U.S. should be replaced with more secure "chip and PIN" cards. Some firms have already started issuing them, based on customer request. It's worth a brief phone call to get an expected delivery time frame. And don't forget to contact store-branded card issuers: Target, for instance, has pledged to replace all of its credit and debit cards with chip-embedded plastic by the end of March.
>> Get discounts on financial services with your AARP Member Advantages.
Enroll for alerts. Most banks and credit card companies let you set up free account alerts to inform you whenever a transaction is made. If you frequently buy with plastic, and don't want to be contacted for each use, ask about establishing a "Card Not Present" alert so you're notified when a purchase is made without a physical swipe, such as transactions done over the phone or on the Internet.
Get hot on freezes. Placing a credit freeze (also known as a security freeze) on your credit report is an easy way to reduce your risk of identity theft. Although originally advised for past victims, this is something most consumers can do proactively. Once enacted, a freeze restricts access to your credit report; without reviewing it, creditors won't issue accounts to identity thieves posing as you. A freeze doesn't impede your ability to check your credit report at AnnualCreditReport.com and does not affect credit scores. It can be unthawed if you're planning to apply for new credit, insurance or a job (for which credit reports are also checked).
For information about other scams, sign up for the Fraud Watch Network. You'll receive free email alerts with tips and resources to help you spot and avoid identity theft and fraud, and gain access to a network of experts, law enforcement and people in your community who will keep you up to date on the latest scams in your area.
Photo: cnythzl/iStock

Also of Interest

See the AARP home page for deals, savings tips, trivia and more.