5 Pet Scams You Need to Know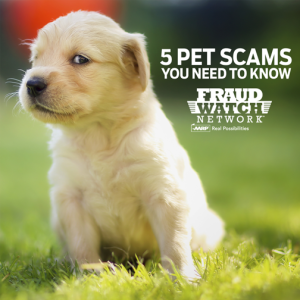 The dog days of summer go beyond just rising temperatures - at least for pet lovers.
Pet scams are also heating up, and here's what you should know about the most common schemes:
Dognapping
Born during the economic downturn of recent years, dognapping involves stealing dogs from unattended backyards and cars - and, more commonly, even in the company of their owners. Some are then held for ransom.
In one recent well-publicized case, surveillance video captured a dognapping in progress at a tattoo shop in Canada - just one week after another pet owner was forced to pay $500 for the safe return of her Chihuahua, which was stolen from another business only a few miles away. (In the U.S., some dognapping cases have involved the payment of more than $10,000 for the safe return of "missing" pets, with "no questions asked.")
>> Sign up for the AARP Money newsletter
Although no breed is immune to dognapping, traditionally, Yorkies, Pomeranians and other small breeds are targeted most often because of their popularity and compact size.
Advice: In addition to keeping your furry friends on a leash and never leaving them unattended in a backyard or car, your best defense against dognapping is to invest in a microchip for pets.
Roughly the size of a grain of rice, a microchip is an identifying integrated circuit implanted under an animal's skin. It carries a number and, once registered, can be scanned to identify lost pets (but it is not a GPS tracker). Because dognappers often remove collars and license tags, if your pet is microchipped, you're on stronger legal ground for proving rightful ownership should you get a ransom call - and can levy criminal charges against the thief.
Microchipped or not, "missing" pets should be reported to police or your local animal control agency. And when posting fliers and ads, include a recent photo and the location where your pooch was last seen - but don't offer a reward. To many scammers, a reward shows you are willing to pay big bucks to get your dog back.
Pet Flipping
Some stolen dogs end up being " flipped" to unsuspecting customers through ads on Craigslist or in local newspapers. In some cases rightful owners have seen ads for their MIA mutts and tried to buy back their pets, only to have their pleas and reward offers ignored as the thieves brazenly sell them to the highest bidders.
Advice: If your pet goes missing, check local Craigslist postings and newspaper "found" classifieds. Although many scammers communicate solely by email - which is hard to track - pet flipping often necessitates providing a phone number for a quicker and easier sale. Police may be able to use that number to track down the thief.
Classified Cons
Stealing photos of adorable pups from legitimate websites, scammers pose as breeders, animal-rescue employees or distressed pet owners who need to find new homes for their dogs, offering huge discounts in "for sale" ads on Craigslist and elsewhere; some even establish bogus websites.
And if you place an ad seeking a pet, it's scammers who may respond, offering to sell your dream companion.
>> Get travel discounts with your AARP Member Advantages.
Either way, the gotcha is that you're asked to pay upfront, often via a wire transfer or prepaid debit card. And once you do, expect a string of additional money requests - for supposed shipping, vaccines or insurance. But the dog will never arrive because it doesn't exist.
Advice: Realize that reputable shelters and breeders never ship (or even sell) dogs to people they haven't met and will rarely solicit prospective owners with such offers. Assume any correspondence done solely by email - but not telephone or in person - is a scam, and upfront payment, especially requested by wire transfer or prepaid debit card, is the calling card of most scammers.
Animal Control Impostors
Although these incidents are sporadic, beware of scammers who pose as enforcers from the local dog pound and threaten to remove a family pet because of alleged complaints unless a fine is paid immediately. This ruse occurred last summer at a Florida retirement community, where a couple shelled out $550 to a scammer posing as a representative of the local animal control agency who had threatened to seize their dog.
"He had a badge, had an ID, gave us a business card and represented himself completely as being part of an independent company for animal care and control," said the president of the community's homeowners association.
Advice: Such identifying "proof" can easily be produced by fraudsters, so before paying a fine, call police and the real animal control department. You'll likely hear something similar to what the couple were told: "If anybody comes to your house and says, 'Give me money; I'm from the county; I'm going to take your dog,' that's not us," said an official of Palm Beach County Animal Care and Control.
Rescue Charity Rip-Offs
Scammers know that people's love for their pets is an ideal means of pulling on their heartstrings - and getting owners to pull out their wallets. So think twice before donating to a self-described pet rescue operation that seeks an out-of-the-blue donation via unsolicited phone call, email or front-door visit.
Advice: As with any charity, check the legitimacy of animal-related causes at Charity Navigator, GuideStar or the Wise Giving Alliance, operated by the Better Business Bureau. If all checks out, your safest bet is to donate directly to that organization via a credit card or mailed check, not through commission-paid solicitors and never by email unless you have donated to the organization before and previously provided your email address.
For information about other scams, sign up for the Fraud Watch Network . You'll receive free email alerts with tips and resources to help you spot and avoid identity theft and fraud, and you'll gain access to a network of experts, law enforcement and people in your community who will keep you up to date on the latest scams in your area.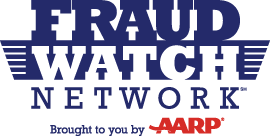 Also of Interest

See the AARP home page for deals, savings tips, trivia and more.