6 'Other' Credit Card Protections
By Sid Kirchheimer , December 12, 2014 07:30 AM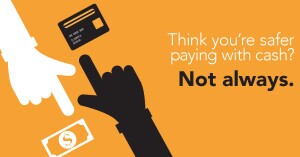 Think you're safer paying with cash? Not always. For instance, holiday shopping means mall pickpockets are on the prowl.
Despite reports of data breaches at retailers including Target, Home Depot and others, don't shelve your credit cards just yet. Compared with debit cards, you'll have fewer hassles and less liability should your card be used fraudulently. For certain purchases, credit cards are better than debit cards and cash because of other, lesser-known protections. These policies vary by card type and provider, so ask about your specific coverage:
Extended return policies. Many retailers limit returns on items to 30 days. But they are extended to 90 days when purchases are made with certain credit cards. Policies vary, and you may have to return the item to the card issuer, not the store. So keep your receipts and original packaging.
Extended product warranties. Some cards extend product warranties for a year beyond what the manufacturer offers — another reason to avoid expensive retailer-sold extended warranties.
Price protection. If you find a lower price on the identical item you already bought (usually within 60 days), you may recoup the difference from the card issuer. Expect to prove that lower price with a print advertisement or an online link.
Damage and theft protection. Some cards refund the price of products that are lost, stolen or damaged (even by you), typically within 90 days of purchase. Expect limitations on both the refund amount and the number of claims you may make within a set period.
Chargebacks. If a company doesn't make good on a product or service — it's not delivered or is just plain shoddy, and then the seller won't refund your money — virtually every credit card has your back. In what's called a chargeback, the issuer refunds the money to you and charges the merchant. You may have to file a dispute within a given time frame and first try to settle with the merchant, but this benefit is especially useful when shopping online.
>> Get discounts on financial services with your AARP Member Advantages.
Car-rental perks. Maybe not protection per se, but certainly pocketbook friendly: To avoid rental company add-ons, some credit cards, like auto insurance policies, cover damage to rental cars and/or provide roadside services, such as towing. It's sometimes automatic if you use that credit card to pay for your rental car; with others, you have to opt-in coverage before swiping.
For information about other scams, sign up for the Fraud Watch Network . You'll receive free email alerts with tips and resources to help you spot and avoid identity theft and fraud, and gain access to a network of experts, law enforcement and people in your community who will keep you up to date on the latest scams in your area.
Photo: studiogstock/Thinkstock

Also of Interest

See the AARP home page for deals, savings tips, trivia and more.