7 Telltale Signs of a Job Scam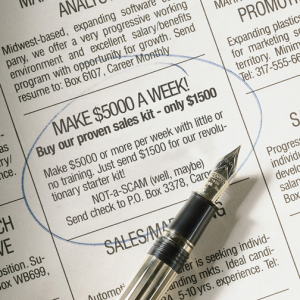 The good news for job seekers: The government's most recent employment report finally puts total employment at pre-recession levels, with nearly 9 million more jobs than at its low point.
The bad news: Scammers are even better poised to steal the money and identities of hopeful applicants, by posing (usually online) as legitimate employers with "We're hiring!" claims. Here are some tip-offs to an impending employment rip-off:
1. Your cash for your (background) check. The most common ruse is getting job applicants to pay fees that supposedly go toward background or credit checks, drug tests or other employer due diligence. Later, applicants are told they didn't get the job (most likely nonexistent). Although legitimate companies may run a background check, this usually occurs after they make an offer - and it's nearly always on their own dime.
>> Get travel discounts with your AARP Member Advantages.
2. You need to pay to get the job. A similar twist requests upfront payment for supposed training materials, certifications or other expenses to place you with a company. Although there are some positions for which applicants must pay for certifications, such as teaching, an employer shouldn't ask you to pay for placement on the promise of work. Nor should you pay for uniforms or job-required supplies before you are hired after an interview.
Upfront payment is also the calling card for "bait-and-switch" schemes in which you're told you need certain supplies for work-at-home jobs - including assembling crafts, stuffing envelopes or doing sales, medical billing or data entry. Victims might pay an initial cost and then not receive the promised supplies, or they might receive some goods but then must shell out more for the "complete package." In either case, the money paid out far exceeds the true value of the promised materials, and supposed sales "leads" may simply be names or companies taken from the phone directory.
3. Your personal information is needed before an interview. Sure, a résumé is required to get any job. But don't believe employers - particularly when answering online job postings - who say they'll hire you if you first provide your birthdate, and Social Security and bank account numbers (for alleged direct deposit of paychecks). This sensitive information used for identity theft should not be included on your résumé or be provided until you've been hired.
4. You're offered a job without a face-to-face or (at the least) telephone interview. True, more legitimate employers are hiring off-site workers. But they rarely bring aboard anyone without at least one or more phone interviews - ideally, calling from corporate numbers that can be checked by phoning that company or with a "reverse" phone number search on online telephone directories such as yellowpages.com or switchboard.com. If you're communicating with a business by email, don't trust Yahoo, Gmail or Hotmail addresses from a self-described HR rep; real ones use corporate-named accounts and tend to write during normal business hours (so be wary of emails you receive at 2 a.m.).
5. You get paid in advance. If you receive a check before you actually do any work, assume you're being set up for a fake-check scam. Typically, you're asked to deposit the check into your account and then forward some portion of it back to the employer or a third party. What happens? The deposited check inevitably proves to be counterfeit (it can take banks up to two weeks to authenticate a deposit), and you may be held liable for all funds drawn from its deposit, as well as possibly face check fraud charges. Plus, you're out the money you already forwarded.
>> Sign up for the AARP Money newsletter
Mystery shopping is a classic example of this ruse. Although there are legitimate mystery shopping jobs, for which people are hired to shop at stores to gather information about in-store products and service, they usually pay less than $20 per shop - not thousands of dollars (typical in phony advance checks in mystery shopping scams) - and payment comes after work is completed. Job postings for "agents for overseas companies" are another popular scheme that uses fake advance-payment checks. But it's often code for reshipping scams in which victims may unwittingly be used to transport stolen goods, leaving the paycheck-duped reshipper also subject to criminal charges.
6. Language to lure. "Easy money" working from home? A "guaranteed" offer of advancement? "No experience needed"? Translation: disappointment, if not trouble, especially when descriptions also tout impressive salaries but lack specific duties. "A bogus job posting might offer an entry-level position and promise an opportunity for advancement, for example, in public relations or marketing," says Howard Schwartz of the Better Business Bureau. "The position may turn out to be door-to-door sales. Many employment scams involve entertainment or sports marketing."
7. The pay is too good. Job scammers tend to say they pay extremely well - because their opportunities don't exist. So before answering an ad for a high-paying job (salaries listed in ads from legitimate employers are the exception, not the rule), check realistic salary ranges for various occupations at salary.com or paywizard.org. If there's a big gap between what's being offered and what you find online, assume you're being set up for a fall.
For information about other scams, sign up for the Fraud Watch Network . You'll receive email alerts with tips and resources to help you spot and avoid identity theft and fraud, and gain access to a network of experts, law enforcement and people in your community who will keep you up-to-date on the latest scams in your area.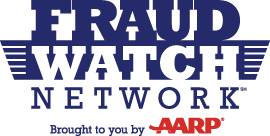 Also of Interest

See the AARP home page for deals, savings tips, trivia and more.