Airline Ticket Scams Take Flight on Facebook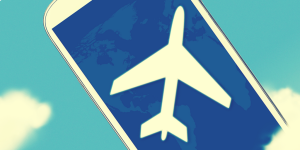 Airline ticket scams are flying high once again. In recent weeks scammer-run campaigns on Facebook have spoofed several airlines – including JetBlue, Virgin, United and Delta – in promising free flights (and with Delta, merchandise and cash prizes, too).
Don't be fooled. The airline "names" change frequently; Southwest and Australian-based Qantas were imitated four months ago in similar schemes, and most of the current victims have been falsely implicated in past "free ticket" scams. In other words, by next week other "airlines" may offer their own faux freebies.
The goal remains the same: Deliver computer malware by tricking would-be travelers into clicking on a virus-laden link that they think allows them to claim their tickets or get important details. Some links also lead to questionnaires, surveys or "reservation" forms that solicit sensitive information valued by identity thieves, spam merchants and unscrupulous marketers.
The timing of this recent barrage is no accident. July and August are typically the most popular months for domestic air travel. Although airline ticket scams occur year-round, they tend to increase in the summer.
Why Facebook, which in recent years has largely replaced the traditional method of mass emails in this and other malware campaigns? Because scammers love the "likes." Most current campaigns read the same: Free tickets can be yours by (1) sharing with your Facebook friends an accompanying photo (typically, the carrier's logo) and (2) hitting the "like" button.
It's called " like-baiting," and cybercrooks are increasingly using this strategy to spread malware to the masses. Your Facebook friends see your "like," which gives the link credibility, and so they are more likely to click on it. As a result, friends click "like" and spread it to those in their social network. Meanwhile, the sending scammer gets a commission from shady merchants for every "like" referral that's generated.
Bottom line: There's nothing to like, since none of the named airlines is offering free tickets to Facebook users just because it is flying new routes or has served its millionth customer (two common phony explanations).
Get discounts on financial services from trusted companies — AARP Member Advantages »
A careful read of these Facebook posts gives other clues of a con:
* There's no fine print . Legitimate sweepstakes and giveaways are legally required to include terms and conditions, including start and end dates, retail value, sponsor name and address, etc.
* The name game. To Facebook fraudsters, it's "Virgin Airlines." — with a period after its name. Not so with the real company. And the actual airlines serving the U.S. are Virgin America and Virgin Atlantic. The fake Facebook page was for "Delta Airways"; the actual carrier is Delta Air Lines.
* Scammer grammar . Misspellings, poor grammar and missing words aren't typical in official corporate correspondence, but they're obvious in these Facebook campaigns. Why? Usually the same poorly written text is just cut and pasted — only the airline name and graphics change.
For information about other scams, sign up for the Fraud Watch Network . You'll receive free email alerts with tips and resources to help you spot and avoid identity theft and fraud, and gain access to a network of experts, law enforcement and people in your community who will keep you up to date on the latest scams in your area.
Photo: Sergey Peterman/iStock
Also of Interest

See the AARP home page for deals, savings tips, trivia and more.