The latest weapon in the battle against illegal robocalls is now ready to halt those illegal automated telemarking phone calls at your home... provided your service provider is compatible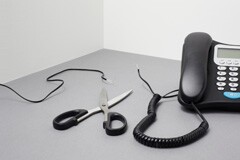 with the technology it uses.
It's called Nomorobo - for "no more robo" and it's free.
Launching this week, it's the brainchild of a software programmer from Long Island who won a contest earlier this year sponsored by Federal Trade Commission and offering $50,000 to the best solution against these annoying automated calls, which generate up to 200,000 complaints to the FTC per month.
Nomorobo uses the "simultaneous ring" service that's provided by some (but not all) phone carriers to screen calls before they reach your phone.
Once you enroll in the service, calls to your phone first ring at Nomorobo and callers are compared against a "blacklist." If on the list, the call is blocked. If the calling phone is deemed to exhibit robocall behavior, the calling number is required to type a number before the call can be routed to you.
Humans can do this. Robots - or more specially, the machines used to pump out thousands of simultaneous robocalls - cannot.
Think of it as a telephone version of the CAPTCHA system, those bizarre sequences of numbers and letters that you have to type at some websites. Humans can type CAPTCHA codes, but not robots.
Nomorobo should not block legal robocalls, including notifications about school and road closings, doctor's appointments and prescription reminders. You don't have to have Caller ID to enroll and Nomorobo says that your call information that's collected will remain anonymous.
Before the launch, testing of the system reportedly blocked 80 percent of robocalls. Currently, the system works with about two dozen service providers to traditional land lines, voice-over-Internet-protocol (VoIP) and mobile phones. If yours isn't among them, a signup form on the website asks that you request it to add simultaneous ring service, required for Nomorobo to operate.
Photo: Image Source/Getty Images
Also of Interest

See the AARP home page for deals, savings tips, trivia and more