Are You Scam Savvy or an April Fool?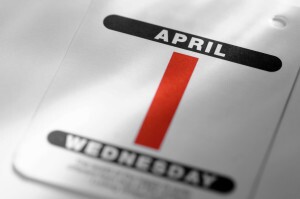 This week, Hump Day is more than just Watchdog Wednesday. Being April Fools' Day, when better not to be fooled by common scams of the season. Take this quiz to gauge your gotcha-avoidance know-how ( answers at the bottom):
1. After you file your tax return, the IRS telephones, asking that you verify submitted personal information. How should you respond?

A. Hang up.
B. Provide the requested data.
2. Bathing-suit season beckons, and advertisements promise that a miracle supplement drops pounds fast — with a two-week free trial . What's your next move?

A. Provide your credit card for shipping costs, knowing you have 14 days after receiving your order to get a full refund.
B. Do an online search of the product's name, company and words such as "complaints," "reviews" and "scam" and carefully study the website's Terms and Conditions and pre-checked boxes.
C. Ignore the offer.
3. You receive an unexpected email offering free airline tickets. What tells you it's a scam?

A. To claim the flight, you're asked for verification with your frequent flier rewards number and log-in details.
B. The fine print reveals that a credit card is needed to reserve the "freebie."
C. A link promises the details, but airline bookings typically provide specifics in the body text, not via an attached link.
4. If your wallet is lost or stolen , why should you file a report with the police?

A. Under law, filing an official report requires police to investigate.
B. So you can get a copy and make duplicates to send to card issuers, credit bureaus, health insurers and the DMV.
C. You shouldn't if the police say they can't help recover your wallet.
5. A contractor comes knocking, offering a big discount on a home repair . Which tip-off suggests his work will likely be a rip-off?

A. He needs payment upfront to go buy materials.
B. His truck has an out-of-state license plate.
C. He offers to help finance the project.
6. After selling something online, you get a check from the buyer. When should you ship the merchandise?

A. After the deposit is posted in your bank account.
B. After the teller says the check has "cleared."
C. After you call your bank and hear that "Funds have been collected."
7. Yippee, more companies are hiring! After you respond to an online ad, which request indicates it's a scam?

A. You're asked to pay for a background check.
B. You're paid in advance.
C. You're asked, via email or phone, for your Social Security number and bank account info (for direct deposits) before an interview.
Answers:
1. A. Official correspondence comes by USPS-delivered mail. To help thwart identity theft, this year some taxpayers may receive verification-requesting Letter 5071C, leading them to idverify.irs.gov, a legitimate website. But ignore any initial contact that comes by phone or email.
2. B or C. Figure you can trust disgruntled past customers more than often-fabricated testimonials on ordering websites. Pre-checked boxes and T&C should reveal tricky disclosures, including permission for ongoing orders and the fact that the free trial begins when you order, not receive, the product. Historically, more people are duped buying "miracle" weight-loss solutions than any other products.
3. Any. Also, beware of freebies contingent on your attending a presentation for problem-riddled vacation clubs.
4. B. This official notification of your MIA wallet can more easily help clear your name should identity theft result.
5. All indicate he's more into the "con" than the "tracting." Small jobs shouldn't require upfront payment. And reputable contractors rarely travel far for work, much less cruise neighborhoods — nor do they offer to finance a project.
6. C. Deposits may be immediately posted (and "clear" used), but you're safest waiting until the bank authenticates the check, which can take up to two weeks.
7. Any. Get other tips to recognize job scams.
For information about other scams, sign up for the Fraud Watch Network . You'll receive free email alerts with tips and resources to help you spot and avoid identity theft and fraud, and gain access to a network of experts, law enforcement and people in your community who will keep you up to date on the latest scams in your area.
Photo: peepo/iStock
Also of Interest

See the AARP home page for deals, savings tips, trivia and more.