Blocking Unwanted Phone Calls
By Sid Kirchheimer , October 02, 2015 09:00 AM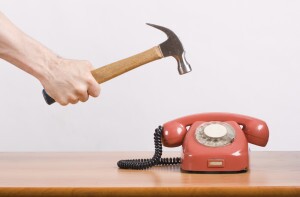 Nuisance calls are the top complaint to the Federal Trade Commission and many state attorney general offices. How can you block them, beyond listing your number on the Do Not Call registry, which is ignored by scammers making live and automated calls?
VoIP Landlines
Nomorobo is a free service that intercepts calls after the first ring and blocks those on its vast FTC-assisted blacklist (quickly approaching 1 million numbers, with 200 added daily). If it's legitimate, the call goes through (for a second ring); if it's an illegal robocall, Nomorobo intercepts the call and hangs up for you. Downside: This highly praised and effective system (winner of an FTC contest seeking the best solution to stop robocalls) works only with an Internet-based service offered by participating cable providers, such as Comcast and AT&T U-Verse, Vonage, magicJack or other Voice over Internet Protocol (VoIP) systems.
Simple ways to save a buck, expert investment advice, scam alerts and much more! » AARP Money Newsletter
Traditional Landlines
AT&T, Verizon, Sprint and other carriers all have their call-blocking policies — which come with possible additional costs, depending on your service. Digitone Call Blocker Plus, which costs about $100 and works with any carrier, was the call-blocking device rated best by a Consumer Reports test panel. Less costly options include Sentry Dual Mode Call Blocker and HQTelecom.com Landline Call Blocker, which had mixed reviews, and CPR Call Blocker Protect, deemed a "bummer."
Android Phones
You can set your phone to Privacy Mode to get calls only from those preapproved and on your contact list, while built-in Call Rejection allows you to send calls directly to voice mail without your phone ringing. Among call-blocking apps, the Indiana attorney general's office recommends Call Control Call Blocker by Kedlin Co., which offers a free basic version; other apps include DroidBlock and Call Filter.
iPhones
Use Do Not Disturb to silence calls from everyone except those selected from your contact list; for iOS 7 or above, follow these instructions to block specific callers .
Cell Service Providers
MyVerizon customers can block up to five contacts at no additional cost for 90 days. Verizon Family Base plans block up to 20 contacts for $5 a month (similar to AT&T's Smart Limits plan). There's no cost to block up to 50 contacts with MySprint or 10 numbers with T-Mobile's Never Allowed.
Get discounts on financial services from trusted companies — AARP Member Advantages »
Etc.
Whatever your phone or system, ongoing nuisance calls should be reported to your service department's "annoyance department," which can place a trap on your number to stop specific callers. If you receive repeated calls from the same "legitimate" business, request that the company place you on its do-not-call list. (It's best to make this request in writing, and send a copy to the FTC, 600 Pennsylvania Ave. NW, Washington, DC 20580). Robocalls and other nuisance calls can be reported to the agency.
For information about other scams, sign up for the Fraud Watch Network . You'll receive free email alerts with tips and resources to help you spot and avoid identity theft and fraud, and gain access to a network of experts, law enforcement and people in your community who will keep you up to date on the latest scams in your area.
Also of Interest

See the AARP home page for deals, savings tips, trivia and more.