Coupon Scams: Don't Get Clipped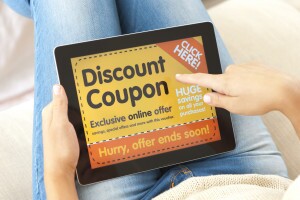 Maybe you saw that recent Facebook post promising a free $200 Nordstrom gift card. Or perhaps it was that $100 coupon for Lowe's, which just resurfaced after a similar "campaign" last spring, or the latest coupon on social media, touting a free Disneyland vacation for four.
Like umpteen others that come and go, each of these recent frauds was part of at least 300 billion fake coupon offers annually that aim to pinch those who are trying to pinch pennies. (Just how bogus was the Disneyland offer? It claimed to include complimentary meals at the California theme park but listed participating restaurants located in Florida's Disney World.)
Ways to save, expert investment advice, scam alerts and more! — AARP Money Newsletter »
The offers and spoofed companies frequently change – Home Depot, Costco, Amazon, Pizza Hut and various supermarkets were all impersonated within the past year — but here's what remains constant:



First, you're typically required to pass the fake coupon on to your Facebook friends, to expand the pool of potential victims of what comes next.

You (and your now-hooked Facebook friends) are directed to complete a survey, which usually requests sensitive personal information, including phone numbers, email addresses, dates of birth and maybe even financial accounts. This not only opens the door to more unwanted spam and robocall rip-offs but also boosts your risk of identity theft.

When you complete the survey, you (and your recruited Facebook buds) may also unknowingly be enrolled in a hard-to-cancel "rewards club" that charges a monthly fee for additional fake offers.

If you click a link for more details or to redeem the offer, you risk downloading malware onto your computer.
So don't get clipped. Here's what you should know about coupons you can trust — and those you shouldn't.
* It's unlikely that businesses offer coupons for triple-digit savings, free vacations or the like "just because" — and a sure bet that if they do, it won't be on social media. If an online coupon is indeed legitimate, it will be on the company's website.
* Legitimate companies may ask you to complete a survey (sometimes in exchange for a modest savings coupon for future purchases), but typically only after you've made an online or in-store purchase. Authentic surveys won't ask for sensitive information like SSNs or bank or credit card accounts.
* Print coupons only from trusted sources. Along with retailer websites, they include established coupon websites such as Coupons.com, SmartSource.com, CouponSherpa.com and RedPlum.com.
* Don't buy coupons advertised on social media, online forums or Internet auction sites such as eBay. They are either counterfeit, expired, obtained illegally or stolen. Coupons are not transferable; selling them violates most manufacturer redemption policies and, therefore, voids the coupons.
Get discounts on financial services from trusted companies — AARP Member Advantages »
* Before clicking on a coupon, check it out with an online search of the offer with words like "scam" or "fraud" and see what comes up. You can also review bogus offers at the Coupon Information Center, which keeps a running list of fake coupons, especially those with more realistic (i.e., "believable") but still phony savings.
For information about other scams, sign up for the AARP Fraud Watch Network . You'll receive free email alerts with tips and resources to help you spot and avoid identity theft and fraud, and gain access to a network of experts, law enforcement and people in your community who will keep you up to date on the latest scams in your area.
Photo: Courtney Keating/iStock
Also of Interest

See the AARP home page for deals, savings tips, trivia and more.