Fall Fallout: It's Time for Front-Door Fraud
By Sid Kirchheimer , October 17, 2014 10:48 AM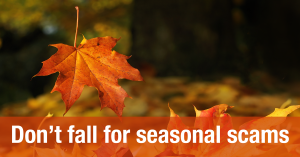 Home may be where your heart is, but for scammers, it's where the money is. They come knocking every autumn with these top perennial ploys:
1. Magazine sales. Consistently ranking among the top scams victimizing those over 60 (but targeting whoever answers the door), it goes like this: Fresh-faced teens sell overpriced magazine subscriptions for a fundraiser. Some fraudulently pose as students, others unknowingly work for scammer-run fronts trying to make a quick buck and/or collect credit card data for identity theft.
The Better Business Bureau has received thousands of complaints from people who never received magazines, were sent and billed for other publications never ordered, or discovered fraudulent charges on plastic they provided.
Unless you recognize the sellers as neighborhood kids, it's best to find reading material in other ways. If you order and have regrets, the Federal Trade Commission's "Cooling Off" Rule gives you three days to cancel any purchase over $25 made at your home.
2. Outdoor home maintenance. Whether offering roof repairs or driveway recoating, handymen hustlers who proliferate in the fall tend to drive unmarked trucks, often with out-of-state license plates. Their M.O. is advance payment for supposed supplies (then they hit the road), or they may do a shoddy job, such as using used motor oil to coat your roof or driveway.
The most notorious may be "woodchucks," who get their name for their initial pitch to prune your trees before winter snowfalls. If you take the bait on that overpriced service, they offer other "necessary" (and equally overpriced) fix-ups — to roofs, gutters, lawns, whatever — to keep bleeding you.
Most legitimate contractors are too busy to solicit business door-to-door.
3. Cold-weather cons. As the winter heating season nears, don't get burned by dubious offers to make your home toasty:
* Inspections and audits. Your utility provider may offer either, but expect notification by mail — with you having to arrange an appointment. Unannounced visits may be door-to-door salesmen who, under the guise of providing an "energy audit," may try to sell unnecessary and expensive products. Or they could be burglars with phony badges and uniforms who claim a need to check your home's furnace or pipes. One leads you to the basement while the other does a quick heist.
Also beware of the latest spin in the longtime utility shutoff con: The FTC warns that some impostors also go door-to-door during power outages, offering to reconnect your service for cash upfront — something real utility companies would never do.
* Chimney sweeping. Beware of impromptu inspections that suggest a supposed leak of carbon monoxide, structural damage or a worn-out chimney liner. Act immediately, you're told, or risk fire or death by poisoning. In reality, carbon monoxide leakage in chimneys is rare — and can be confirmed with a CO2 detector. If your chimney is actually crumbling, expect to see pieces of brick, stone or mortar in your fireplace or outside the house. For a legitimate chimney sweep (recommended annually for people who use a fireplace at least weekly), get referrals from your local fire department or at www.csia.org.
>> Get discounts on financial services with your AARP Member Advantages.
* Furnace and ductwork cleaning. Indeed, your furnace should be cleaned and inspected for the winter — and chances are you get reminders from the company that installed the system. Beware of unsolicited offers whose cleaning ends with claims that you immediately need to replace a system that appears to be working.
Before opting for duct cleaning, unscrew vent covers and look for visible mold or clogged debris in air ducts. If you see none, cleaning is unnecessary, says the Environmental Protection Agency. If needed, get referrals at www.nadca.com.
For information about other scams, sign up for the Fraud Watch Network . You'll receive free email alerts with tips and resources to help you spot and avoid identity theft and fraud, and gain access to a network of experts, law enforcement and people in your community who will keep you up to date on the latest scams in your area.
Photo: Thinkstock
Also of Interest

See the AARP home page for deals, savings tips, trivia and more.