Flood Scams That Can Really Soak You
By Sid Kirchheimer , October 14, 2016 08:00 AM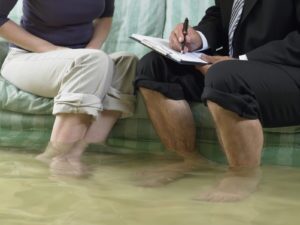 In August it was Louisiana that was devastated. In September, Iowa got soaked. And since last week, flooding triggered by Hurricane Matthew has affected portions of East Coast states from Florida to Virginia.
Accompanying these and other natural disasters: flood-themed scams.
As the most two common cons continue — disaster-related charity scams and shady contractors called storm chasers, who travel to ravaged areas seeking up-front payment for home repairs done poorly or not at all — here are other popular ruses currently affecting those states (and possibly yours in the future).
FEMA fakes. Swindlers pose as employees of the Federal Emergency Management Agency or insurance companies. Under the guise of doing an inspection or offering restitution or low-interest loans, some solicit personal and financial information (including Social Security and bank account numbers) to use for identity theft. Others seek entry to homes to case for later burglary or demand up-front payment, allegedly to process claims — say, a check or money order for your insurance deductibles. Ask for identification, verify credentials, and keep in mind that FEMA doesn't charge for any service.
Ways to save, expert investment advice, scam alerts and more! — AARP Money Newsletter »
Hotel room hoax. Flood victims and homeowners in vulnerable areas are called with an offer for a hotel room until the waters subside. Police say it's a trick to get credit card information under the guise of reserving the room.
Unlocked-door deception. Fraudsters claiming to be from local, state or federal agencies ask impending evacuees to leave their homes unlocked before they seek emergency shelter. That's no official policy; it merely provides easy entry for a home burglary.
"Free" inspections. Floodwaters trigger both pests and concerns about drinking water. That's ideal for shady salespeople to offer "free" inspections that could result in unnecessary repairs, products or service. Beware of unsolicited front-door visits, deal with only legitimate companies, and get a second opinion before signing contracts. If you're concerned about the safety of drinking water or pitched devices, contact the public health or water department.
Flood cars . In this scam you could get soaked thousands of miles from the flooding. It works like this: Cars deemed a total loss due to flooding are supposed to wind up at salvage yards or be used for spare parts. But about half are purchased at auction and resold (often states away) to unsuspecting dealers and car shoppers. (Those vehicles may initially run but soon break down.) VINCheck , Carfax and AutoCheck can reveal a vehicle's flood damage. But even if a car is not specifically noted as flood damaged, you may want to avoid buying used vehicles that were registered in a state during the time of a flood. Telltale signs of flood damage include musty smells or overpowering fragrances; carpeting that looks too new, is discolored or has water stains; lights and gauges with water condensation; and/or water, mud, silt or stains in engine crevices, the glove compartment, door panels, under seats and the spare-tire well.
Discounts on financial services from trusted companies — AARP Member Advantages »
For information about other scams, sign up for the Fraud Watch Network . You'll receive free email alerts with tips and resources to help you spot and avoid identity theft and fraud, and keep tabs of scams and law enforcement alerts in your area at our Scam-Tracking Map .
Photo: AlbanyPictures/iStock
Also of Interest

See the AARP home page for deals, savings tips, trivia and more.