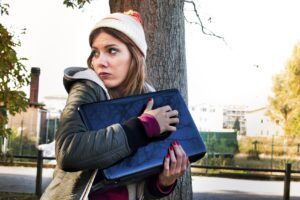 A new school year means new opportunity for identity thieves to cash in on their prized prey — students. Studies show that children under age 18 are about 50 times more likely than adults to be targeted and victimized for identity theft.
Reasons: It's unlikely that elementary through high school students monitor their credit … or even have it. That clean credit history more easily allows scammers to open fraudulent accounts — credit cards, loans and utility service — with the identities of your children and grandkids and go undetected for years or even decades. "As long as the identity thief has a Social Security number with a clean history," explains Richard Power of Carnegie Mellon CyLab, "the thief can attach any name and date of birth to it" to create a false identity to use fraudulently.
Ways to save, expert investment advice, scam alerts and more! — AARP Money Newsletter »
In addition to Facebook, Twitter and other social media being fertile ground to harvest names, birth dates and other useful nuggets divulged by tell-all half-pints, beware of these additional online traps that directly target children, who should be taught to check with a parent whenever asked for personal information or payment:
Free merchandise. Whether it's music, ringtones, gift cards, food or online games, the cost of such touted freebies usually is a requirement to provide personal information and/or risking downloading computer malware. Whenever a "freebie" asks for a bank account or credit card (likely a parent's) under the guise of "verification" or "security," assume that free offer will soon incur charges.
Contests. To enter, kids may be asked for names, addresses, birth dates and other details that could be used by ID thieves or sold on the scammer black market. Hint: If a skill contest is seems too easy — say, solving a simple math problem — the hard truth is that it's likely a scam.
Surveys. Kids may want to voice their opinions, but completing online surveys — usually with the promise of a prize — allows fraudsters to mine deeper for personal information, including hobbies. The small print may reveal (or not) automatic enrollment in at-a-cost memberships of activity-related products or services.
Scholarship scams . Only scam offers — not legitimate scholarships and grants — demand application fees or sensitive information such as the student's SSN or bank account information.
Online sales. Laptops, iPhones and other must-have gizmos may promise a bargain price but may not exist. Aside from those on websites or Facebook pages of well-known manufacturers or retailers, beware of "sales" posted on social media. (A parent should oversee purchases made on eBay and other online auctions.)
Discounts on financial services from trusted companies — AARP Member Advantages »
The one-ring scam . When not online, kids tend to be on the phone. Warn yours that if his/her cellphone rings once or is disconnected, don't call back that unfamiliar number with any of these area codes: 268, 284, 473, 649, 664, 767, 809, 829, 849 or 876. Despite a seemingly American area code, the call is to an international phone number — often in the Caribbean — and through a premium connection fee and high per-minute rate (extended through long holds and frequent transfers) the callback can cost $30 or more.
For information about other scams, sign up for the Fraud Watch Network . You'll receive free email alerts with tips and resources to help you spot and avoid identity theft and fraud, and keep tabs of scams and law enforcement alerts in your area at our Scam-Tracking Map .
Photo: pixelrainstudio/iStock
Also of Interest

See the AARP home page for deals, savings tips, trivia and more.