How to Avoid Hotel 'Resort Fee' Rip-Offs
By Sid Kirchheimer , October 27, 2017 03:34 PM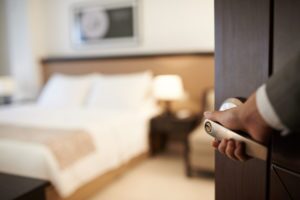 Although not new, hotel "resort fees" and surcharges are higher than ever — predicted to generate a record $2.7 billion this year — and now include previous freebies: parking, holding luggage, early cancellation or checkout, "restocking" of those already overpriced minibar snacks and beverages, and even the privilege of having (but not necessarily opening) a hotel room safe. Other charges include so-called resort fees for services and amenities offered by hotels, even when not used by individual guests: gyms, swimming pools, Wi-Fi, fax services, automatic gratuities for staff, and "complimentary" newspapers and coffee.

All told, this nickel-and-diming can add 30 percent to the advertised room rate. At least 47 state attorneys general are investigating whether hotel fees are transparent and honest, and a recent Federal Trade Commission report said that "separating mandatory resort fees from posted room rates without first disclosing the total price is likely to harm consumers." But for now, hotel resort fees and surcharges are allowed, so it's on you to find and try to avoid them. Here's how:
Look before you book. Don't expect surcharges to be prominently displayed on hotel or third-party booking websites; they may be hidden in the fine print (but often are not). ResortFeeChecker.com helps take out the guesswork by listing known fees at hotels you may be considering.
Don't wait for a waiver. Whether you make reservations online or by phone, a call to the hotel before arrival is the best time (and way) to confirm likely add-ons and get them removed — especially if you have no plans of using "resort fee" services like hotel gyms. In that call, get the hotel or booking agent's name and ID number, and have it, with details of your conversation, at check-in. Also mention what fee-mandated services you won't be using (such as the gym, pool or room safe) and get the front desk clerk's name at check-in should problems occur when you get your bill.
Learn the lingo. Although most commonly called a resort fee, these add-on charges may have other monikers: a "facility fee," a "designation fee," an "amenity fee," a "convenience fee" or, in larger cities, an "urban fee."
Be a "program" patron. Hotel loyalty programs may waive certain resort fees and surcharges for members, possibly even for new enrollees. Hotel stays booked with credit card awards points is another way to waive some fees.
Politely (and logically) raise a stink. Hotel resort fees may be called "mandatory," but it's a manager's call on whether they are worth losing a repeat customer or getting bad online reviews. If you are charged for services you didn't use or that weren't provided as promised — say, the pool was closed or Wi-Fi was slow — don't quibble with some low-level clerk with no bargaining power. Ask to speak with the manager, with whom you should calmly state your case. If all else fails, dispute the charges with your credit card company, documented with reasons you shouldn't pay … especially if fees weren't disclosed until checkout.
For information about other scams, sign up for the Fraud Watch Network. You'll receive free email alerts with tips and resources to help you spot and avoid identity theft and fraud. Keep tabs on scams and law enforcement alerts in your area at our Scam-Tracking Map.
Photo Credit: iStock/Dragonimages
Also of Interest


See the AARP home page for deals, savings tips, trivia and more.